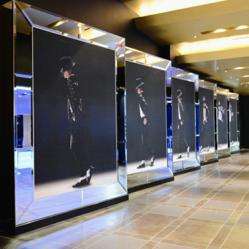 Las Vegas, NV (PRWEB) June 14, 2013
Celebrate Cirque du Soleil in Las Vegas this Summer with BestofVegas.com's Summer of Cirque Series for a chance to win tickets to popular Cirque du Soleil shows, including two tickets to the Official World Premiere of the newest show on the Las Vegas Strip, Michael Jackson ONE at Mandalay Bay with exclusive insider After Party Passes to continue the night hobnobbing with the cast and crew with plenty of delicious cuisine and libation.
In Las Vegas on June 29th? Here's how to win tickets to the Official World Premiere of Michael Jackson ONE and an invitation for two to the VIP After Party. Follow @BestofVegas, then tweet why you deserve the tickets to Cirque du Soleil newest show with the hashtag #SummerofCirque. Be creative because the tweet that gets the most retweets by June 20th 1PM PST will win the tickets and the invitation to the exclusive Las Vegas Party. So, tell friends, spread the word, tweet @BestofVegas, and remember to keep it classy.
In addition, BestofVegas.com will keep everyone up-to-date on all things Cirque du Soleil with the Summer of Cirque Series and Giveaways, where readers will have chance to win more tickets and merchandise to other Cirque du Soleil shows. Every Tuesday, there will be a new Summer of Cirque article on BestofVegas.com with a winning "Cirque Phrase" inside each post. Be the first to tweet the provided "Cirque Phrase" found within the Summer of Cirque article and win. For show tickets, winners will have a six-month timeframe to see the show, some blackout dates may apply, please see the Terms and Conditions for details on the giveaways.
Ever wanted to know more about Cirque du Soleil and how they pull off those amazing performances each night? Well, this summer, BestofVegas.com will dive deep into the inner workings of Cirque du Soleil with interviews with key members of the production and crew, all of which are crucial to delivering the truly enchanting spectacles on the Las Vegas Strip. Take a look at what happens under the water at "O" at the Bellagio. Find out the secret tips on how to get the high fashion look of Zumanity at New York New York Hotel into your makeup repertoire. Even, step into the shoes of the performers, literally. A walk through the costume department at Zarkana at Aria will strip the veil off of everything from Zark's cape and trick hat to the sexy snake-girl outfit. But taking it a step further, BestofVegas.com shows how anyone can go backstage at a Cirque du Soleil show with Cirque Insider Access Tours, exclusive to BestofVegas.com.
The summer belongs to Cirque du Soleil, so remember to like us on Facebook and follow @BestofVegas for teases. BestofVegas.com will post a Summer of Cirque article every Tuesday through Sept 3rd, so there are many chances to win. And keep on trying, the runner up will receive cool Cirque du Soleil merchandise or other goodies.
About BestofVegas.com
BestofVegas.com is an Entertainment Benefits Group Company (EBG) and has been delivering Las Vegas travel fun since 2001. Negotiating the best rates on hotels, tours, and shows, we work directly with partners to help visitors save money and really explore Vegas. EBG operates more than 35 locations in Las Vegas with a customer service call center available seven days a week. Want to know the latest in Las Vegas, BestofVegas.com delivers special offers, exclusive Cirque du Soleil backstage tours, and great deals on what makes Vegas so fun.