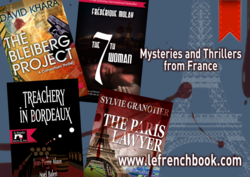 A summer reading list with a decidedly French flair
New York, NY (PRWEB) June 20, 2013
Digital-first publisher Le French Book is running a flash summer reading sale. On June 20 and 21, their entire list of top selling books from France, in English, will be available for Kindle at 99 cents. Prices go back up on Saturday.
Le French Book publishes France's top mysteries and thrillers in translation, which makes for a summer reading list with a decidedly French flair to it. Ideal for beach reads, plane reads, light reads, and fun reads that take you somewhere else. Here's a sampling.
World War II conspiracy resurfaces today - The Bleiberg Project by David Khara
This adrenaline-pumping thriller is a great summer read for Bond lovers. Are Hitler's atrocities really over? Wall Street trader Jay Novacek is having a bad week when he learns his long-lost father just died, precipitating events that lead him to board a plane to Zurich. He's got a Nazi medallion in his pocket, a hot CIA bodyguard next to him and a clearly dangerous Mossad agent on his tail. What was his father investigating? Why was his mother assassinated? Why are unknown sides fighting over him with automatic weapons? According to Library Journal, it's "a quick read to be savored."
Wine and crime - Treachery in Bordeaux, by Jean-Pierre Alaux and Noël Balen
This short read is as much a wine novel as it is a whodunit. Readers immerse themselves in French countryside and gourmet attitude with two amateur sleuths gumshoeing around Bordeaux wine country. A grand cru wine estate that has fallen victim to either negligence or sabotage. What happened and why? According to ForeWord Reviews, the "journey through its pages is not to be rushed."
Suspense and authentic police procedural in Paris - The 7th Woman by Frédérique Molay
In this "taut" and "lightning-quick" thriller, readers get to go to Paris, where beautiful-sounding names and places surround ugly crimes committed there. Terror stalks young, successful women in the streets of the French capital and into the once-safety of their apartments, as a deranged serial killer focuses on humiliating chief detective Nico Sirsky, while brutally slaying his quarry. ForeWord Reviews calls it "a slick, highly realistic, and impeccably crafted thriller. Likeable characters, outstanding pacing, and unexpected plot twists that keep readers guessing throughout…an extraordinary, hard-hitting novel."
Secrets and mystery in French countryside - The Paris Lawyer by Sylvie Granotier
This psychological thriller is set between the sophisticated corridors of the Paris courts and a small backwater in central France, where rolling hills and quiet country life hide dark secrets. The main character is a rookie French lawyer who in the midst of investigating her first big case and uncovers secrets about her mother's disappearance many years before. Readers see into the characters' minds and feel their emotions, making this a compulsive read right through to the surprise ending. According to Cosmopolitan, it is "full of surprises and twists that will keep you reading late into the night."
Short stories for short summer reads
Le French Book also has an entire collection of wacky, very French short story ebooks available for 99 cents, for really quick reads. There are thirteen volumes in the 52 Serial Shorts collection.
Get ebooks for Kindle here: http://www.amazon.com/l/6327897011#
About Le French Book
Le French Book (http://www.lefrenchbook.com) is a New York-based digital-first publisher specialized in great reads from France. Founder Anne Trager says, "There is a very vibrant, creative culture in France, and the recent explosion in e-reader ownership provides a perfect medium to introduce readers to some of these fantastic French authors." The company's motto is "If we love it, we'll translate it."
©2013 Le French Book, Inc. All rights reserved. Information is subject to change without notice.