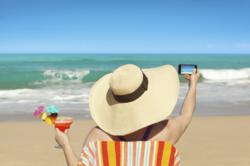 Summer vacationers can be worry free while traveling after following simple tips from the experts at SecuritySystemReviews.com.
Baltimore, Maryland (PRWEB) June 04, 2013
Taking summer vacations is one of the favorite American pastimes, but as with any activity, it's important that vacationers keep safety and security tips in mind, even while relaxing on an enjoyable trip. Vacations post unique safety threats that are different than those that might be encountered when a vacationer is at home, and it's for this reason that SecuritySystemReviews.com, a site providing home security system reviews, created a list of tips for vacationers. SecuritySystemReviews.com is known for providing reviews of top security companies throughout the country, including Lifeshield reviews.
1. Try to avoid taking very valuable items on vacation whenever possible. This includes laptops and other electronics, jewelry and family heirlooms. Vacations present a number of opportunities that these items can be lost or stolen, whether it be in the airport, the hotel or on the streets. If an expensive item is taken on vacation, such as a digital camera, it's wise to record the serial number of that item, as well as photos of the item, which can be used similarly to an inventory of the belongings in a home.
2. Consider investing in a home automation system. A home automation system is one of the newest types of security system technology and it allows homeowners to keep an eye on a home even if on vacation. It is also great to control devices such as lights and the televisions, in order to give the appearance that someone is home to potential burglars.
3. It may be a good idea to purchase traveler's insurance, which will provide protection against unexpected occurrences while on vacation. Examples include lost luggage, stolen items, accidents or even illnesses that occur on a vacation that may require medical attention.
4. When traveling try not to carry too much cash. Many travelers like to have a lot of cash on hand to tip service people, pay for parking, etc. but having a lot of cash on one's person while traveling is not always a good idea in case of theft. If a credit or debit card is stolen or lost it can be traced and replaced, whereas if cash is stolen or lost it's gone for good and a traveler may be left without money while away from home.
5. Always be aware of travel routes before leaving home, and don't stray from tourist areas if in a remote location or foreign country. Be aware of surroundings at all time, and observe signs and markers.
About SecuritySystemReviews.com
SecuritySystemReviews.com is the leading third party provider of information regarding good security system companies. The site provides consumers with comprehensive reviews and rankings of top security system companies and equipment throughout the country, as well as access to discounts, coupons and instant quotes.