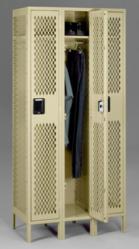 Customers Need To Buy School Lockers Now
Boston, MA (PRWEB) March 09, 2012
Schools tend to order school lockers in the early summer and hope to get delivery in the fall before school starts. What we see is the seasonal summertime school lockers crush. When this happens, lead times extend, and some customers can not get the delivery they want from any source. For this school lockers buying season, A Plus Warehouse is running a promotion to encourage customers to order school lockers sooner rather than later. According To Ed Stairman , President of A Plus Warehouse " Customers should buy school lockers now. History repeats itself, and we will not be able to ship locker orders as well in the summer as we do right now!"
In order to encourage ordering before crunch time , A Plus Warehouse is offering free standard freight for any order over $12,000 – no including inside delivery or other accessorial freight charges. For any school lockers order between $2,000 and $12,000 A Plus Warehouse will offer a five percent discount to any customer that mentions the 'avoid the summer school lockers crunch' promotion.
One very important fact to know about school lockers is that they are not JUST for schools! School lockers are used in industry and even individual homes. One can only imagine that the big families on reality TV need school lockers. Perhaps the Jersey Shore folks could use them as well – hopefully not to lock cast members in!
A Plus Warehouse has been providing quality lockers for many years , and is pleased with the products offered. Some great school lockers A Plus Warehouse sells are made by Hallowell, Penco, Lyons, Edsal, Republic, Parent and Pucel as well. A great majority of our school lockers are made in USA , but the company offers imported lockers for those that are looking ,mostly at a price point.
A Plus Warehouse is great with school lockers not just for the price offered, but also for the in stock position. School lockers ship from regional distribution points on a next day basis in many cases! A Plus Warehouse also has the very best sales people in the trade!
Come visit the A Plus Warehouse Blog to find out all about us.
About A Plus Warehouse:
A Plus Warehouse is a national distributor for school lockers and other industrial storage equipment such as storage cabinets. A Plus Warehouse is able and ready to handle your valued business right now.