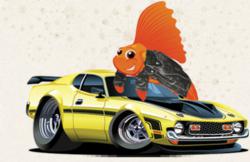 The least-fun way to learn what not to do when traveling is to learn it through experience.
Sacramento, CA (PRWEB) July 01, 2012
RoadFish.com men's lifestyle and finance magazine today highlighted a recent article published by the Sacramento Bee offering travel recommendations geared towards saving money and creating a safe travel experience. RoadFish.com made several of its own suggestions to travelers that were not mentioned in the article, and encouraged cost-efficient and safe travels year round by taking some key steps prior to a trip.
Claudia Buck of the Sacramento Bee recently contributed an article highlighting her tried-and-true tips to save travelers some money and give them peace of mind about the safety of their belongings during a trip. One of Buck's helpful tips include alerting your credit card company that you will be traveling, if your destination is outside of the state or even more importantly, the country. This will save you from a potential freeze on your card if your bank spots "unusual activity" in a foreign country and mistakes it for identity theft. While this freeze won't have anything to do with your credit report, it can certainly throw a wrench in your vacation and require several phone calls and possibly days to sort out the situation. Another great tip is to find out before your trip what will be covered under your insurance by way of luggage and personal belongings. Verify that your policy is valid anywhere you travel, and before you leave take some photos of your suitcase and its contents that way if you do have to make a claim, it is as accurate as possible.
RoadFish.com has learned some of the lessons it now offers as tips the hard way. RoadFish.com's Senior staff writer is quoted as saying, "The least-fun way to learn what not to do when traveling is to learn it through experience. Buck makes a great recommendation to clip your car keys inside your carry-on luggage if you're parked at the airport so you've got easy access to them. Once, on a flight from Boston to San Diego, I mistakenly put my car and house keys in the big suitcase that I checked, and my luggage got lost for 2 days. Fortunately I was able to arrange a ride and had spare car keys at home, but I definitely learned the hard way to keep your keys on you when you're returning home."
Buck suggests that travelers who will be going abroad make several copies of their travel documents such as their passport, their hotel reservations, and plane tickets. One should stay in the luggage and the other should stay with a friend or family member back home. RoadFish.com takes the recommendation a step farther and suggests scanning these documents and emailing them to yourself. RoadFish.com's Senior staff writer points out that if your luggage is lost or stolen along with the original and copied documents, you can visit any internet café and pull them up electronically.
Another document not mentioned in Buck's article that RoadFish.com recommends copying is your insurance information. RoadFish.com suggests calling your insurance provider before your trip, especially for international travelers, and finding out what is covered abroad. Make sure to ask for their international phone number and any other information you'd need to know if you were to get sick or hurt on your trip.
And lastly, RoadFish.com points out the importance of safe money dealings on your trip. If traveling abroad, RoadFish.com states that traveler's checks are not the necessity they once were due to the present amount of ATMs abroad. In the above-mentioned Sacramento Bee article, Buck recommends inquiring in advance from your bank about foreign transaction fees. Some don't charge them, but many still do and it's good to know in advance which camp your bank falls into. RoadFish.com mentioned that even if your bank does charge you the fees, you can always request to have them reversed upon your return. RoadFish.com's Senior staff writer is quoted saying, "It's worth a shot. I traveled to South America for a month last year and called my bank when I got back to attempt to have the fees reversed. You'd be surprised what a good attitude will get you, because sure enough after a polite request on my end, $35 was credited back to my account for seven $5 foreign transaction fees. I'm not saying that this will happen every time, but you'll never know unless you try!"
According to a recent report by USA Today, an estimated 179.4 million people will take domestic flights (within the US) this summer and that another 26.8 million people will fly internationally, a jump by half a million from the summer of 2011. The article reported that U.S. airlines will carry an average of 2.24 million travelers by plane each day from June to August, and that number will reach 206.2 million total passengers for the summer of 2012.
About RoadFish.com
RoadFish.com is an online men's lifestyle and finance magazine targeted toward men in their 30's and 40's that have already attained a moderate level of success in life, and are striving toward more. It goes over current events of interest to this group, such things as exciting adventures, personal finance, consumer interests, hot chicks, and the British housing market as well as ways to make more and save more money. It is a publication owned by Purpose Inc.