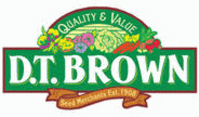 (PRWeb UK) July 15, 2010
It features a host of new plants which are set to appeal to all those who enjoying growing and eating fresh, home-produced food. Following the immediate popularity of the honeyberry, which D. T. Brown introduced to British gardeners two years ago, comes the introduction of Juneberry Smoky, which has long been grown as a 'pick-your-own' crop in North America, where it is known as 'saskatoon'.
Smoky's fruits are similar in size, taste and shape to those of the blueberry and were once a staple food of North American Indians. The self-fertile, ultra-hardy plants will grow in most soils and can yield up to an impressive 4.5kg of fruit per bush in July. Unchecked plants can reach up to 2.5m high, whilst their suckering makes them good hedging plants. One bare-root plants costs £12.95, while three are offered for £28.85, a saving of £10.
Recently introduced self-fertile Kiwi arguta Issai is now joined by females Jumbo and Pupurna Sadowa and the male Weiki, which is required for pollination. Both new females are, like Issai, bite-sized, can be eaten unpeeled and are sweeter and more aromatic than larger kiwi fruits. Jumbo has relatively large, oblong fruits which are borne in profusion from late September onwards. One potted plant of Jumbo costs £12.95. Pupurna Sadowa has red-skinned fruits with a delicate, slightly sharp taste. This ornamental variety crops heavily, and a potted plant costs £12.95. Both Jumbo and Pupurna Sadowa can be supplied with Kiwi Weiki to ensure pollination.
Another new soft fruit is the Balloon Berry, which is also known as the 'strawberry-raspberry'. It is easy to please and hardy. While the large, sweet fruits are a little bland when raw they make delicious jam and jelly. Its low growing habit makes the Balloon Berry good for ground cover. One potted plant costs £12.95, or three are available for £28.85, saving £10.
Once greenhouses and polytunnels have been cleared of summer crops they often remain unused until the following spring, but D. T. Brown's 'undercover' range of winter greens seeds help to ensure they can remain productive for much more of the year. General manager Tim Jeffries has chosen a varied selection of fast-growing and tasty winter greens, which can be steamed just like spring greens or added to stir-fry dishes and salads. Autumn sowing of the seeds will give speedy crops of healthy and nutritious young vegetables
Sprouting Chinese Cabbage Eats, Shoots and Leaves F1 is not to be missed. Rather like a Chinese purple sprouting, it is much quicker to grow and produces masses of slender, succulent, sweet flower stems which can be eaten raw or lightly steamed. Treat the young leaves just like spinach for a really worthwhile, dual-purpose vegetable. The range also includes Tatsoi Emperor's Savoy, which resembles a rather flat pak choi, Japanese Spinach Hohei F1, green-stemmed Pak Choi Yuushou F1 and Mizuna Waido, a versatile, cut-and-come-again strain. Autumn and winter sowings should be made in cell packs for transplanting to the greenhouse border. The Undercover Collection of all five varieties is priced at £5.95, a saving of £2.00 on individual prices.
Other new additions to the vegetable section of the catalogue include a selection of seed mats and seed tapes, which are convenient for both new and seasoned gardeners, autumn-planting Onion Swift, which becomes ready the following May, and Garlics Tuscany Wight and Aquila Wight. Tuscany Wight is widely used in Umbrian chicken dishes and Aquila Wight is a red-skinned Roman type which keeps very well. All D. T. Brown garlic is UK-grown and therefore very well suited to British growing conditions.
In addition to six 'second cropping' new potatoes for autumn and Christmas harvest, the company is also offering a selection of its main season seed potatoes for December delivery to satisfy the many keen growers who 'chit' their tubers early.
Back to soft fruit, D. T. Brown's reputation as one of the leading mail order suppliers will be further enhanced by many exciting new introductions. Gooseberry Xenia's large and very sweet fruits can be eaten straight from the spine-free bush if desired. The berries are ready at the end of June and are superb in all types of desserts. One plant of Xenia costs £7.95, while three are priced at just £19.85.
Raspberry Polka has the renowned Autumn Bliss as one of its parents, but it can produce up to double the yield and crop up to two weeks earlier, from late July through to October. The fruits are large, medium red and have a traditional fragrant, zesty flavour. Polka has the added advantage of growing well on a wide range of soils. Six canes cost £12.95 while 12 may be ordered for £21.90. New from Oregon USA is Blackberry Black Pearl, which is currently undergoing commercial trials in the UK. D. T. Brown, customers have the exclusive opportunity to try this thornless and very tasty new variety before it reaches the shops, with one potted plant of Black Pearl costing £8.95 and three costing £17.95.
No summer is complete without strawberries. D. T. Brown has several new varieties on offer in the catalogue. Christine is an 'early' which yields plenty of large, firm fruits which are packed with flavour – plus the advantage of strong resistance to most common diseases. A pack of 12 runners costs £12.95. Elegance is a mid season variety, the firm flesh of which is simply packed with flavour. It is an exceptionally heavy cropper. Twelve runners of Elegance cost £9.95.
In recent years D. T. Brown has introduced several outstandingly tasty strawberries from France, the latest of which is early cropping Combraille. With fruits weighing up to 26gm each, it is remarkably large fruited and lacks nothing in flavour, texture and colour. Five runners of Strawberry Combraille are priced at £5.95, while customers may but 15 runners for the price of 10 at £11.90.
Misted tip modules of Strawberry Sonata are again a feature of the catalogue due to their great popularity with 'savvy' gardeners. A technique developed with commercial producers in mind ensures that if the specially prepared, large young plants are set before the end of August they will yield an earlier and heavier crop next summer – up to 1kg of strawberries per plant. Twelve misted tip plants of Strawberry Sonata cost £12.95.
More…
Blueberries have become increasing popular with British gardeners in recent years. D. T. Brown's new variety Sunshine Blue is rather different from most in being evergreen or semi-evergreen, giving it greater ornamental value. It grows to around 1m and is perfect for both container and open ground plantings. Showy, bright pink flowers are followed in midsummer by delicious, tangy little fruits. One established three-litre potted plant of Sunshine Blue costs £14.95, while three are priced at £29.85.
While the catalogue is chiefly aimed at kitchen gardens a range of flowers and other ornamental plants is also included. In response to customer demand, D. T. Brown is introducing a range of native, ornamental or edible hedging. Sloe, hazel, sweet briar, copper beech and hornbeam are just some of the species on offer as two-year-old bare-roots. Perfect for naturalistic plantings, they not only look good but provide welcome shelter for a wide range of wildlife.
Few flowers are better loved than sweet peas – and what better ones to grow than those regularly chosen by keen exhibitors? D. T. Brown has carefully selected six of the best 'showbench' varieties which it is offering as autumn-sown plants to produce the finest and longest lasting display of these fragrant favourites next season (2011). They can be bought as single varieties or as a money-saving collection of all six for delivery in March 2011.
To request a free copy of the D. T. Brown Summer Fruit and Vegetables Catalogue 2010, write to D. T. Brown, Bury Road, Newmarket, Suffolk CB8 7PQ, telephone 0845 3710532, fax 0845 3710534 or visit the D T Brown website.
###