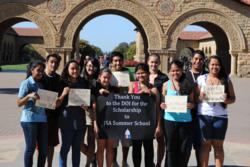 Diversity of ideas, customs, and opinions, is what JSA is all about. I'm privileged to say that I've made friends from all over the world during the two summers I spent with JSA
Washington, DC (PRWEB) May 30, 2013
The Junior State of America (JSA) today announced that students from Brazil, Canada, China, Guatemala, Japan, Russia, South Korea, Spain, Thailand, and the United Kingdom will attend the prestigious JSA Summer School programs. JSA Summer School programs train high school students to be leaders in a democratic society. The participation of students from countries around the world spreads knowledge of our American democratic system of government and imparts the skills needed to be the effective statesmen and stateswomen of the future.
Additionally, students from the US Territories of American Samoa, Guam, the US Virgin Islands, the Commonwealth of the Northern Mariana Islands, and the freely associated states of the Federated States of Micronesia, the Republic of the Marshall Islands, and the Republic of Palau will also experience the summer of a lifetime. The participation of these students is is made possible through a grant from the Department of the Interior's Office of Insular Affairs.
The mission of the Junior State of America is to prepare high school students to take on active roles in civil society. Students at each of JSA's Summer Programs at Georgetown, Princeton, Stanford, and the University of Virginia will have an opportunity to learn more about American government, economics, international relations, or public speaking, subjects which will help them intelligently advocate for causes they care about.
The participation of international students enhances the JSA Summer School experience for the hundreds of students from across the US who participate. "Diversity of ideas, customs, and opinions is what JSA is all about. I'm privileged to say that I've made friends from all over the world during the two summers I spent with JSA," said Summer School Alumnus and Southeast Student Governor Raymond Rif.
Limited places are still available at some Junior Statesmen Summer School Programs. Visit jsa.org/summer to find out more and to apply for the summer of a lifetime.
Junior State of America (JSA): Providing civics education and leadership programs for nearly 80 years, JSA is the largest student-run organization in the United States. School-year programs take place in more than 450 secondary schools in 35 states, with more than 10,000 members. The JSA program is supported by the Junior Statesmen Foundation Inc., a 501(c)(3) tax-exempt educational corporation, which provides guidance to JSA's student leaders. It has offices in San Mateo, Calif., and Washington, D.C. More information is available at http://www.jsa.org/ or jsa(at)jsa(dot)org.