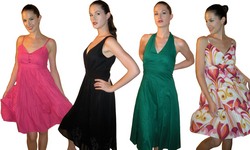 Whoever said money can't buy happiness simply didn't know where to go shopping.
New York, NY (PRWEB) August 4, 2008
The Oxford dictionary defines retail therapy as "the act of shopping in order to relax or to make yourself feel better or happier." Many have experienced this phenomenon. Who hasn't enjoyed finding the perfect summer dress or pair of shoes and fantasizing how great she will look and feel wearing it or them?
In a bad economy, however, does retail therapy really make one feel better? Not if you are spending money you do not have. Instead of relaxed and happy you are likely to feel guilty and frustrated. Not to mention, broke. Remember when Carrie Bradshaw, the heroine from Sex and the City, couldn't afford an apartment because she enjoyed retail therapy a little too much. In realizing this she declared, "I've spent $40,000 on shoes and I have no place to live? I will literally be the old woman who lived in her shoes! " So, how does one enjoy retail therapy when times are tight?
A popular quote from the actress Bo Derek may provide some insight, "Whoever said money can't buy happiness simply didn't know where to go shopping." Even in a tight economy, money can buy happiness if one knows where they can purchase great items without breaking the bank. Thank goodness stores like this exist.
There are some old favorites like Old Navy and Forever 21. Additionally, online stores that work directly with manufacturers can offer items at extremely inexpensive prices. One such store is The Summer Dress Store.
The Summer Dress Store sells fantastic summer dresses all year long. There are many great trendy summer dress styles and most of the summer dresses have fun fabrics and/or intricate appliqué designs. The best part about The Summer Dress Store is that the summer dresses range from about $30 to $50 dollars. Currently, The Summer Dress Store is offering 10% off everything during the month of August. (Just enter the sale promo code at checkout. Sale Promo Code: August 10) So even in this bad economy people can shop for great summer dresses to lift their spirits without feeling guilty for breaking the bank.
###