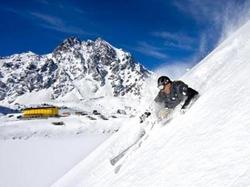 Orinda, CA (PRWEB) July 1, 2008
Visitors to OnTheSnow.com have said - by virtue of clicking to them most often - that this list represents the best of the best places to support that ski/snowboard habit this time of year. Our regional editors in the Northern and Southern Hemispheres and in Europe concur.
Our list includes the only U.S. resort open in the summer; some high altitude glacier cruisers in the European Alps and Canada; several full, all-out skiing mountains of South America; and some favorites Down Under in Australia and New Zealand. Remember that the Southern Hemisphere resorts enjoy winter during the North American and European summertime.
The resorts that made our Top Ten list for 2008 are open right now. The snow is waiting. Go for it. Leave the beach chairs in the garage.
10. Kaprun Glacier, Austria: Here's glacier skiing on the Kitzsteinhorn high above Zell am Zee (3,000 metres) in the Salzburg region. Take a cable car from the shores of Lake Zell directly onto the glacier snowfield. You can ski in the morning and swim in the lake in the afternoon. The Alpine panoramic views alone are worth the effort. Bring the kids and visit the Ice Arena on the plateau with igloos, slides, and a snow beach.
9. Tignes, France: Summer on the Grande Mott Glacier in Tignes means skiing or boarding over 20 km on a 750-foot vertical drop. Choose from 16 lifts. The snowpark, with its pipes, rails, bumps, and jumps, is fun. You go to Tignes for the skiing and snowboarding, not the ambience of some other European resorts, but who cares when you can slide in summer?
8. Zermatt, Switzerland: Glacier skiing is generally about cruising and there's an abundance of it on the 25 km of Zermatt pistes (as big as most Southern Hemisphere resorts), serviced by eight lifts. Getting there is half the fun. Ride the Klein Matterhorn cable car up what amounts to a shear mountain face to 3,820 m. (12,530 feet). Lifts open as early as 7 a.m. Look for icy conditions in the morning, followed by typical "spring snow" as the day rolls out. It's over by 2 p.m. You even can ski over the border from Cervina, Italy.
7. Coronet Peak, New Zealand: This 60-year-old playground is just 25 minutes from Queensland. Ski or ride your socks off from first tracks early in the morning through night skiing. Haven't been here in a while? The base area has undergone a $30 million transformation. Ski and ride over 280 hectares. The M-1-Big Easy is 2.4 km and is a kick for intermediate and advanced skiers and riders. Coronet was the first Down Under resort to open this season.
6. Whistler Blackcomb, British Columbia: Canada beckons skiers and snowboarders even during the summer. Blackcomb's Horstman Glacier is as majestic as it gets and becomes a blend of winter sports with summer weather. It's open every day from 10:30 a.m. until 3 p.m. by upload from the Wizard Express at the base of Blackcomb Mountain. The scenic ride via three chairs and a bus takes about 45 minutes. There's even a one-day Uber Pass for mountain biking, hiking, sightseeing, skiing, and snowboarding. Look for good summer lodging deals.
5. Perisher Blue, Australia: Visit Perisher Blue, about a six-hour drive from Sydney, and you'll find plenty of skiing on seven mountain peaks accessed by 49 lifts, including a high-speed eight-seater if you crave lots of company. Most of the area is intermediate, but beginners and advanced skiers/riders also will be happy. Snowmaking has been dramatically expanded for this season to the tune of $10 million. End your day sipping Brumby Schnapps in the Top Spot Bar at the Blue Cow terminal.
4. Timberline Lodge, Oregon, U.S.A.: The only place in the United States where you can ski and ride from early June through Labor Day is Timberline Lodge on Mt. Hood. The elevation at the top of the Palmer Snowfield is 8,540 feet. Last winter brought epic snow and gave the summer season a spectacular kick start. Many national racing, freestyle, and snowboard teams train here, but there's always plenty of terrain open to us average "joes." It's only about an hour's drive from Portland. Still, don't miss the opportunity to stay at the hand-built (W.P.A) Depression-era lodge where every room is different.
3. Las Leñas, Argentina: You'll ski or ride on descents from 11,253 feet above sea level to the base at 7,349 feet on 60 km of terrain. The 16-lift system is among the best in South America and are all named for Roman Gods to make you feel lofty and invincible. There are round-trip packages from Buenos Aires to Las Leñas for Saturday-Saturday packages. Driving the three hours from Santiago, Chile, means doing so on a road with 80 switchbacks. Nothing good is easy to find, right? The 5-star Piscis Hotel in Las Leñas is pricy, but you have the opportunity win it all back at the casino.
2. Cerro Catedral, Argentina: What's in a name? The peaks resemble Gothic cathedrals, that's what. The resort is located 19 km from Bariloche. Ski or ride over 600 hectares There are 39 lifts. The season runs late here, with a planned closing Oct. 30. There are 2,000 beds at the base with many more in town. There's off-piste skiing, and terrain for freestyle and snowboard bumps and rails. The ski passes are controlled by a radio system, so you don't even have to zip open your parka. You can ride, but you can't hide.
1. Ski Portillo, Chile: You won't go wrong anywhere in our Top Ten world, and beyond it of course, but our readers and editors saved their top marks for Portillo, one of the world's most unique ski resorts, and a 50-year pioneer at that. Portillo is a two-hour drive from Santiago with plenty of coach service, so you don't have to do it. There never will be more than 450 people on the slopes and it won't be long before you know most of them. It's so high above the timberline in the Andes, you'll think you're skiing on the moon. The humidity is so low its dry powder has become the stuff of legends. You stay from Saturday to Saturday at the self-contained resort at the Grand Hotel Portillo, Octagon, and Inca Lodges.
###