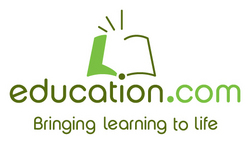 Redwood City, CA (Vocus) June 12, 2010
Education.com, a leading web destination for parents of school-aged children, has launched its second annual Summer Activities Challenge to help parents and other caregivers keep their kids excited about learning during the summer break. To complete the Challenge, parents must register on Education.com and complete at least 10 Education.com activities with their kids by August 29th. Activity ideas are organized by grade and topic, allowing participants to choose the best activities for their family. All families who complete the Challenge will receive a personalized certificate of achievement and will be entered to win a Funjet Vacations family getaway for four to Cancun with airfare and all-inclusive accommodations for four nights at the RIU Cancun, or one of 100 sets of Schylling Rocket Balloons. Plus, each week during the challenge one family will win a LEGO prize pack.
Education.com has thousands of activities for participating families to choose from. Each activity takes anywhere from ten minutes to several hours to complete and the activities typically require basic materials that families will either have on hand, or can easily and inexpensively acquire. No matter which activities parents choose to do, participating in the Summer Activities Challenge will help their children stay sharp and have fun throughout the summer.
Education.com Editor-in-Chief Danielle Wood explains the company's decision to host the Summer Activities Challenge again this year: "Educators tell us that kids can slip quite a bit academically during the summer break. It's called a 'break' for a reason, and no one wants to torture kids with spelling tests and math drills during the summer. But parents tell us they do want to help their kids avoid that summer slide. So we've designed activities that are incredibly fun, but sneak in some education, too. By participating in the Summer Activities Challenge, families can spend some quality time together and keep their brains sharp during the summer. To kids, making backyard bottle rockets and doing secret treasure hunts will just seem like play, but underneath all the excitement, they'll be learning, and even preparing for the next school year."
For more information about Education.com's 2009 Summer Activities Challenge, including complete contest rules, visit http://bit.ly/SAC2010PR.
About Education.com
Nearly 1.5 million parents a month come to Education.com to get the information they need to support their children's unique educational and developmental needs, and to find ideas for how to make learning more fun. From kindergarten readiness to college prep, Education.com is the leading destination for involved parents. Often called 'The WebMD of education,' the company has teamed up with leading universities, nonprofits, and research organizations to offer highly credible parenting, developmental, and educational information. The site also offers printable activities, community resources, access to best-of-breed educational services, and SchoolFinder – a tool that gives parents comprehensive data on the nation's 125,000 public, private and charter schools. Education.com was founded in 2006 and is headquartered in Redwood City, CA. The company is backed by leading venture capital firms, Azure Capital Partners, TeleSoft Partners, and California Technology Ventures. For more information, please visit http://www.education.com.
###