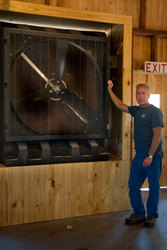 We're very excited about all the improvements at the camp and our brand new cooling systems and are looking forward to the "Coolest Summer Camp Ever" for kids in 2011
Lake Wales, FL (PRWEB) April 12, 2011
After many years of trying to beat the Florida summer heat, earlier this year, an eco friendly cooling solution was finally found and installed ready for Summer Camp 2011. All the Cabins, the Lasso Lodge & the Round Up were renovated adding new siding, bath fixtures and lighting. The new "eco friendly cooling systems" are designed not to harm the environment and help create cooler areas for those times during the day and night when kids just need to take a break. Add this to the existing Funtastic experience campers have come to expect and some kids won't ever want to leave.
So if you haven't sent your kids to Circle F Dude Ranch for summer camp now is the time. Captain Paul Wells, who has owned and operated circle F Dude Ranch for the past eleven years has brought his vast Cruise Ship knowledge and improved upon the "Funtastic" Florida Summer Camp experience with the "Coolest Summer Camp Ever" at Circle F Dude Ranch located in Lake Wales Florida
Sure, there's still all the camp traditions that you would expect as well as outdoor fun and games, adventure, including all the favorites: the Zip Line, Skate Park, Rockwall, Kayaking, Sailing, Swimming "Blobbing", Banana Boat Rides, the Summit Slide and more. The camp also offers Photography, Guitar, and all Popular Sports. And as if that is not enough, the camp has 65 beautiful horses and offers horseback riding for all levels, with both Western and English riding. All activities are designed with fun and safety in mind.
"We're very excited about all the improvements at the camp and our brand new cooling systems and are looking forward to the "Coolest Summer Camp Ever" for kids in 2011!" said Captain Paul Wells.
Circle F Dude Ranch is a "Funtastic" 500-acre camp conveniently located south of Orlando in Lake Wales, Florida and has been hosting kids and families continuously since 1952. Circle F Dude Ranch not only offers Florida Summer Camp programs but also Spring Break Camp, Family Weekends, Women's Weekends and Group Rentals.
For more information visit their website at http://www.circlefduderanchcamp.com or call them at (863) 676-4113
###