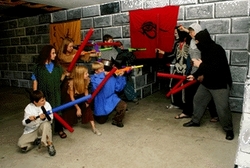 Our Monsters are People too.
Burlington, MA (PRWEB) May 5, 2008
Imagine the following Summer Camp experience for a child:
Crawling through dark maze-like tunnels...the sound of the howling wind sets your nerves on edge. You see an odd glow up ahead. You thrust your lantern into the cavern that opens before you and you see hordes of undead creatures milling about a giant casket. The casket cover creaks open and a giant figure rises...turns its ancient ghoulish face in your direction...locks eyes with you... and bellows a command to the minions to surround him. Behind you, your team of companions break through into the cavern and quickly drop into battle formation. Fighters with shields at the front... archers and spell casters in the middle... healers at the rear. You turn back to the Zombie King and his minions. His vile presence has been a curse on this land for too long. You lift your sword into the air and let out your battle cry as you plunge into chaos!
Guard Up! Family Swordsmanship of Burlington, MA has a sleepaway summer camp that sets the bar higher for an experience in imagination. This camp doesn't involve your usual swimming, crafts and horseback riding. The Wizards & Warriors Summer Camp lets kids live the adventure they only read about in books like Harry Potter, Lord of the Rings and Chronicles of Narnia.
Having run their Summer Sword Adventures for 7 years and their youth programs for more than 12 years, Guard Up! CEO Meghan Gardner teamed up with Randy La Rosa, a Boy Scouts of America Camp Director to help flesh out the logistics of the experience. "We have created a new residential summer camp that brings to life the fantasy and adventure that kids usually only get from books, movies and video games," says Gardner.
Campers show up on Sunday at the camp which looks like a Medieval Village and start designing their Character. This is the role they will play for the rest of the week in the upcoming adventure. Dressed in medieval costumes, wielding foam covered swords, and casting foam "spell balls" is all just part of the excitement. Their goal is to learn as much as possible about the mysteries of the land... solve the riddles... and save the village from terrible monsters. They also learn how to make real chainmail and leather armor (which they get to bring home). Potions are important for the success of any adventure... but kids need to first learn a bit about chemistry before they can master Alchemy. And since the ancient library scrolls are written in Latin, it won't take long for the kids to pick up another language.
This camp also offers one of the most unique Counselor In Training programs ever: Monster Camp! In our Teen Summer Camp, older campers play a variety of creepy, nasty creatures and work towards their own goals. Just remember, "Our Monsters are People too."
But the best part of all is the Grand Battle late one evening... when the kids must all assemble at the village commons and fight the Zombie King and his undead horde. The catch is that some of the undead are their parents!
To find out more about Guard Up! Family Swordsmanship, visit our website or call (781) 270-4800. To write a story or cover one of the events (we can provide you with a costume so you fit in), please contact public relations at (781) 271-1491.
###