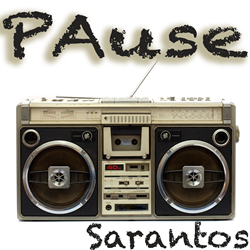 I strongly feel that fans will get addicted to this catchy vibe and wanna play it again and again as the melody gets stuck in the head!
Park Ridge, IL (PRWEB) July 04, 2017
Sarantos encourages fans to get up and dance to their favorite song this summer as the new song PAuse drops around the world.
As much as Sarantos wants to continue riding the wave of the best song he's ever released (Above The Clouds), it's a new month. Every month Sarantos releases a new song, music video, book chapter and uncut behind the scenes video. And so, on we go.
July is the halfway point in the year. While it's hard to believe six months have passed since New Year's Resolutions were made and forgotten, July marks the true summer month, right? There's no denying that summer is in full swing and vacations, school breaks, beaches, late night adventures and daytime relaxation are the only items on the menu. When Sarantos thinks about the summertime, the only thing that takes center stage musically are dance/EDM type of songs and playing one's favorite songs repeatedly. Thus, the genesis behind the latest single "PAuse" starts to make sense to fans.
"This fun danceable summer song is all about playing your favorite song again and again," says Sarantos. "First there were 8 tracks, vinyl, cassettes tapes, CDs and then the iPod, iPhones and the digital revolution. But do you know what they all have in common?? The rewind, pause and play button! So I thought it'd be cool to write a dance song about wanting to play your favorite song repeatedly. Is there anything more fun than when you first fall in love with a song on the radio and you want to hit the replay button after you've bought it? Yeah, that also matches up to my own personal musical goals. I strongly feel that fans will get addicted to this catchy vibe and wanna play it again and again as the melody gets stuck in the head!"
Sarantos and fans chose this charity for this song - Pause. They work with women who have experienced or are at risk of repeat removals of children from their care. They aim to break this cycle and give women the opportunity to reflect, tackle destructive patterns of behavior and to develop new skills and responses that can help them create a more positive future.
Sarantos' unique sound has been best described by industry insiders as an "emotionally powerful vocal style masterfully united with music that is a fusion of classic '80s rock blended with modern soft rock and pop music."
Since 2014, Sarantos has won over 38 awards with Akademia LA Music and Beat 100, while also being nominated for the International Music & Entertainment Awards and the Hollywood Songwriting Awards. Even without ever using a professional music studio, label, ad agency or radio promoters, "Dreamer" & "What If I Never See You Again" have spent many months in the top 200 on the majors list in the US for radio airplay according to the Digital Radio Tracker Top 200 charts. On the independent charts, Sarantos has hit the top 10 twice.
*Because Sarantos wants music shared throughout the world, fans can always find downloadable songs, lyric sheets, videos and books on the website. Fans can sign up for the email list to get the inside scoop first and exclusive content available nowhere else.
Facebook: http://www.facebook.com/Sarantosmelogia
Spotify: play.spotify.com/artist/0fSzbfDxSHL10T1ryPsRLQ