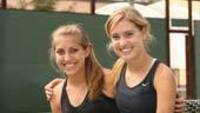 This is our 35th season
San Rafael, CA (Vocus) February 10, 2010
US Sports Camps, the nation's largest sports camps network and official provider of Nike Sports Camps, will offer full camp schedule without major cut backs for summer 2010.
"This is our 35th season," explains Steve Pence, U.S. Sports Camps president, "But this year was absolutely the toughest scheduling decision in our history. We felt the pressures to cut back -- and did so in many areas -- but when it came to our summer camp programs, we decided to continue to offer a full schedule of camp opportunities and to do our best not to leave any kids behind."
This will be good news to many parents who are already facing reductions in local recreational programs, park closures, and cut backs in physical education in our nation's public schools. But there's more pressure on the sport camp industry than just scheduling. Another trend is the desire of parents to give their children a boost on high school teams and beyond.
"Our coaches have a saying that teams are built in the fall; individuals are developed in the summer," says Pence. "One or two weeks of a Nike Camp definitely gives athletes the edge they need to make their high school team or move up the team ladder. And numerous Nike Camp athletes have gone on to varsity sports and at the collegiate level, including scholarships."
Today's decision to continue to offer a full schedule of summer camp programs benefits a great number of children who will still have the opportunity to experience camp this year. The children range in age from 7 to 18, with the average age being 13. Adult and parent/child programs are also available. Camper ratio varies by sport with overall numbers at 52% girls, 48% boys.
About US Sports Camps
US Sports Camps (USSC), headquartered in San Rafael, California, is America's largest sports camp network and the licensed operator of Nike Sports Camps. The company was started in 1975 with the same mission that defines it today: to shape a lifelong enjoyment of athletics through high quality sports education and skill enhancement.
US Sports Camps offers youth and adult programs including: Nike tennis, Nike golf, Nike volleyball, Nike lacrosse, Nike basketball, Nike softball, Nike running, Nike field hockey, Nike swim, Nike soccer, Nike baseball, Nike water polo, Nike multi-sport. Other programs include the NBC Basketball Camps, Vogelsinger Soccer Academy, Contact Football Camps, Snow Valley Basketball Camps, McCracken Basketball Camps, Peak Performance Swim Camps, and Professional Sports Camps.
Full program dates and locations can be found online at http://www.ussportscamps.com/ .
###