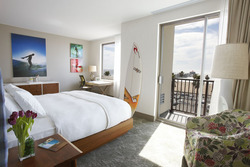 Joie de Vivre is giving away almost half a million dollars in hotel stays to kick off summer in a big way and let Americans know they can find affordable, close-to-home summer vacations right here in California
San Francisco (Vocus) April 16, 2009
This Memorial Day, Joie de Vivre - California's largest boutique hotel collection - will kick off summer by giving away 25 Explore California Passports each valued at more than $17,000. Every one of the 25 no-strings-attached Explore California Passports features a two-night stay at each of Joie de Vivre's 35 hotels (70 room nights), with two-year validity, transferability to friends and family, and no blackout dates.
To register to win one of the 25 Explore California Passports, U.S. residents can sign up between April 16 and May 20, 2009 on http://www.summercalifornia.com. Everyone who visits the website will receive a free tip sheet featuring 100 affordable things to do in California and a $25 credit for each room night booked on summercalifornia.com. The 25 sweepstakes winners will be announced via a video posted to the website on Monday, May 25, 2009.
Joie de Vivre's Summer California website is designed to make planning affordable summer travel easy, with hotels categorized by rates from $59 to $199 and $200 and up. Guests can use the $25 credit to enjoy amenities such as room service, restaurant dining, spa services and parking at their selected hotel. Specially designed packages for families, surfers, dog owners, architecture buffs, and arts aficionados are also available on http://www.summercalifornia.com.
"Joie de Vivre is giving away almost half a million dollars in hotel stays to kick off summer in a big way and let Americans know they can find affordable, close-to-home summer vacations right here in California," said Chip Conley, Joie de Vivre's CEO and founder. "We're celebrating the magic of the summer vacation and making it easier with summercalifornia.com for vacationers to enjoy a state that offers an amazing variety of wonderful experiences."
Joie de Vivre's 35 uniquely California boutique hotels range from the revitalizing Hotel Vitale to the family friendly Americania Hotel in San Francisco; from the hip Hotel Angeleno in Los Angeles to the sexy-surfer-chic Shorebreak Hotel in Huntington Beach, from the idyllic Ventana Inn & Spa in Big Sur to the oceanfront Santa Cruz Dream Inn.
For more information, visit http://www.summercalifornia.com.
About Joie de Vivre
San Francisco-based Joie de Vivre (http://www.jdvhotels.com) is a collection of creative lifestyle businesses. Founded in 1987 by Chip Conley, Joie de Vivre manages nearly 40 boutique hotels, more than 20 restaurants and four spas, and is recognized for creating some of the most innovative hospitality services and products and designing one-of-a-kind properties. Joie de Vivre also manages residential projects with hotel-style services and amenities. As California's largest boutique hotel collection, Joie de Vivre Hotels is becoming the hotel brand synonymous with the California travel experience, offering a wide range of unique urban, suburban and waterfront boutique hotels that cater to leisure and business travelers in all market segments. Joie de Vivre hotels are located in San Francisco, Marin County, Silicon Valley, San Francisco East Bay, Big Sur, Sonoma County, Santa Cruz, Sacramento and Los Angeles. In 2009, Joie de Vivre continues its California expansion with hotels opening in Huntington Beach, Long Beach, Venice Beach, Santa Clara and Laguna Beach.
Media Contact:
Lori Lincoln, Director of Public Relations, Joie de Vivre
Tel. 415.773.1067
###