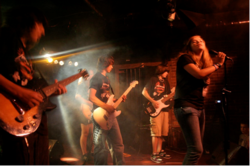 Teaching and educating is always rewarding but it is even better when you see a group you created continue playing together
Dover, NH (PRWEB) May 31, 2012
The idea of Rockright Academy and the summer camp is to create kid rock 'n' roll bands. Rockright is owned and operated by Ralph Napolitano and Gary Leighton. Ralph is owner of Ralph's House of Tone located in downtown Dover, NH. Gary has been teaching guitar and music theory for 15+ years in individual and group settings. Both are part of the popular local 80's tribute band Gazpacho.
"We started RockRight because our students were doing great but many of them couldn't find people to play with," says Gary. The programs are for kids of any age. In the past they've had kids as young as six and as old as 18. Some musical experience is needed however since kids are placed according to level there is often a band for kids at any level. Typical bands are up to five members including a singer, guitarist, drummer, keyboardist and bass player.
The most exciting part for the kids is usually the conclusion. This is where all their hard work pays off as they get to perform live at real rock venue. The kids play on stage at The Brickhouse in Dover, NH. This is a location that books paid band on the weekends, so the setting is a real one. View this video of past performances by RockRight's kids rock 'n' roll bands.
Since 2005 when RockRight started many bands have been assembled and several of them have stayed together. "Teaching and educating is always rewarding but it is even better when you see a group you created continue playing together," says Gary.
Details about 2012 summer camp program at RockRight Academy: six weekly sessions starting July 10th and the last concluding on August 24th. Sessions are Tuesday through Friday from 10 a.m. until 2 p.m. Kids will be grouped based on age, skill level and their musical interests. Cost for students of Ralph's is $250 and for non-students it is $275. Practice will take place at Ralph's House Of Tone and the live performance will be at the Brickhouse in Dover NH.