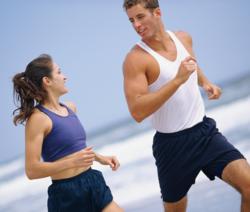 It's called a "workout" for a reason.
Rumford, RI (PRWEB) April 29, 2013
It's been a long winter, but spring is finally upon us which means soon it will be time to break out the shorts, tanks and bathing suits. Though we encourage living by these tips year-round, here are 3 simple things you can focus on now to help you get started on transforming your body to get ready for summer.
1. Pay attention to what goes in your mouth
You hear it all the time, "you are what you eat." That is absolutely true. "You can't outwork a bad diet." No matter how hard you workout in the gym, if your diet isn't reflecting the same effort, you'll never see the results you're looking for. Try to consume natural, highly nutritious foods- all the fruits, veggies and protein you can eat (within reason, of course). Limit as much as possible the added sugars, fast food, and late night snacking.
2. Consistency is key
Being consistent is paramount to creating a habit and creating change in your routine. Nothing great was built over night- results take time and effort. Try to get vigorous exercise 3-4 times a week and stay active on your "off" days. On your "off" days, get outside, enjoy the weather and just keep moving be it with a walk, bike ride, playing tennis, etc. If you continuously skip workouts and are inconsistent with your eating, your body won't adjust to your new regimen and transform the way you want it to.
3. WORK
It's called a "workout" for a reason. Anything worth having isn't easy to get. You can't just go through the motions. Anyone can exercise, but only those who put in the effort will reap the rewards. Find a program or a trainer who can help you do that. Don't be afraid to sweat and push beyond what you think you can do.
Remember to always keep moving. Powered by YOU.
About 212 Health and Performance:
212 Health and Performance is built on the premise that within each of us lies the ability to push beyond what we think possible. True progress lies between the familiar and the unfamiliar. When the temperature of water raises just one degree it is transformed from water to steam and its ability to power, transform and create change is generated. This is our philosophy. That going just a bit further, taking one more step, lasting one extra second will mean the difference between same and change. Everyone is here for a different reason, this is your journey, this is your change. 212 Health and Performance. Powered by You.