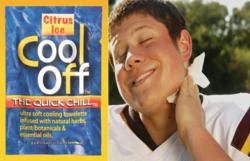 'Cool Off' is unique, there's no product like it and it really works!
Tarzana, CA (PRWEB) June 22, 2012
"The summer heat wave being experienced across the nation has people on the lookout for remedies like beaches, water sports and swimming pools," says Paul Z, warehouse manager at First Aid Global in Tarzana, CA. "But most people still have to go to work every day in sweltering subways and on sunbaked streets, and up until now, a bottle of water is all they could turn to. We've found a natural remedy called 'Cool Off' that is getting so popular, it leaves our warehouse as soon as it arrives."
'Cool Off' Towelettes are herbal-infused with 17 natural herbs, botanicals and essential oils. Wiping the towelette on arms, back, neck and back of knees can reduce body/skin temperatures by 12 degrees for more than an hour.
"'Cool Off' has been a popular product for us, especially with golfers and athletes, and with women suffering hot flashes," Paul continues, "But now that summer has arrived, everybody needs relief, and the high humidity currently being experienced actually helps activate the cooling properties. We sell it on the FirstAidGlobal.com website as well as on Amazon where you can get 100 packs in a dispenser box for only forty-six dollars. 'Cool Off' is unique, there's no product like it and it really works!"
Another summer-related product in the First Aid Global warehouse is sunscreen towelettes. Many parenting organizations promote the use of towelettes on children as they are easy to apply without the mess or stress of lotions and the product stays on for hours, even after children emerge from swimming pools or the ocean.
Paul adds, "SunX SPF30 Sunscreen Towelettes are PABA and oil free, contain Aloe Vera Gel and Vitamin E, protect against UVA and UVB rays, and meet government standards for outdoor workers. Our biggest volume customers are golf courses and city services, and companies where their workers are constantly exposed to the harmful effects of the sun. We sell them in 100-count dispensers as well as 60-count packages that you can find on our Summer Heat Webpage. The packets are easy to carry in your pocket or purse, so there should be no excuses for sunburns this year."
First Aid Global is a full-service First Aid, Safety and Emergency Preparedness company in Tarzana, CA that has been in business 15 years restocking First Aid Cabinets, Safety Gear and Food Service Gloves. Their line of Earthquake Preparedness Kits have expanded to include customers in all 50 states, including disaster preparedness for tornados, hurricanes, fire and smoke escape, and emergency blackouts or power failures on their new website http://www.PowerSurvival.com. For more information, visit their website at FirstAidGlobal.com or call them toll free at 866-305-1753.