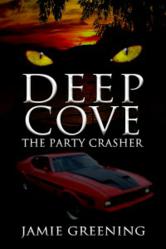 Holmen, Wisconsin (PRWEB) June 13, 2013
Author Jamie Greening has released a sequel to his 2012 story, Deep Cove. Greening's new release, Deep Cove: The Party Crasher begins with the last week of summer break in 1978 and a group of teens throw one more party on the shores of Deep Cove. As the eight tracks play from the car stereo of a Ford Mustang the teenagers talk, dance, and pair up. The party doesn't last long, though, as the serpentine monster crashes in. Will anyone make it out alive?
As previously mentioned, Greening's new release is a sequel to his original story Deep Cove. "Deep Cove" is a short story about the Deep Cove monster. Two men, Randy and Jimmy, are viciously attacked in the dark night as they 'run their trotline' on the fictional Texas reservoir of Deep Cove. This suspenseful tale leaves you guessing whether or not they get out alive.
Download options for Deep Cove: The Party Crasher are available through Bard and Book Publishing.