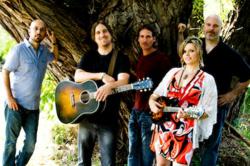 Big Leg Emma is the crown jewel of a powerful main stage lineup. Great harmonies, great musicians, and a great mix of recognizable covers and great originals.
Shepherdstown, WV (PRWEB) June 19, 2013
Shepherdstown Street Fest is a free summer music festival in the small German town of Shepherdstown, West Virginia. Just one hour outside of metropolitan DC, the festival celebrates new and upcoming bands with a ten-hour music extravaganza on June 29th. Understanding the talent that will be descending on this town is the best way to comprehend why this is a must-attend musical festival. The festival also highlights Shepherdstown history as the oldest town in West Virginia, and the retail and restaurants with proceeds going to the Bethany House and Good Shepherd Care Givers.
Morgan Academy, is the Title Sponsor and has been providing major funding for the festival for the past two years. Bernardine Somers, Director, says, "Shepherdstown is a unique magical community of wonderful people. Providing a Kids Camp for the festival is Morgan Academy's gift back to the community. This is our second year being the top sponsor of the event. I want to give back since the people and the community of Shepherdstown has been very kind to me and to my business."
The headliner this year is Big Leg Emma. The group is bringing its brand of Americana roots rock to Jefferson County's largest outdoor musical event, Shepherdstown Street Fest on June 29. The band tops a long list of popular acts that will appear on two stages. "There are a handful of places that make an impression, and make you feel at home. For Big Leg Emma, Shepherdstown is that place," said the band's booking agent John Steed. "Shepherdstown has a great feel and a relaxed vibe, very in the moment."
Other bands performing are:
The Hillbilly Gypsies kicks off the Street Fest this year at 12:05. Dave Asti is the winner of the WV State Bluegrass Banjo Championship and a native of Shepherdstown. The band has performed on NPR, Mountain Stage, PBS Song of the Mountains and BBE Ireland Documentary Special.
Also from Shepherdstown is The Woodshedders performing at 1:50 bringing together the diverse influences of American Country, Rhythm & Blues, Old-time, Bluegrass, and Gypsy Jazz. Their debut album, Catch That Yardbird, was released to critical acclaim including "Roots Album of the Year" (Just Plain Folks) in 2009.
Performer Johnny Neel is a recipient of the "Life Time Achievement Award" form 2012 Grammy's with his work with the Allman Brothers is one of many awards Neel has collected.
Dust off the tie-dyed shirts because Shepherdstown WV Street Fest is thrilled to announce that the leading Grateful Dead tribute band - On The Bus, will be playing at 5:20 pm on the Main Stage! On The Bus is not just a tribute to the Dead, but a tribute to the musical environment that spawned a multi-generational genre that artfully blends the essential elements of rock, blues, jazz, funk, country, bluegrass and soul.
More than 6,000 people attended the 2012 festival, which will be held 10am to 8:30pm on the two blocks of German Street on either side of the town's main intersection. The largest band stage is set up on German and King and the smaller stage is set up behind the library where local musical talent is highlighted.
German Street will be lined with artisans from up and down the East Coast as well as localselling handmade crafts and wares. Many German Street shops and eateries will have booths outside creating an indoor-outdoor experience for visitors to patronize local businesses as well as the many vendors who set up camp for the festival.
Shepherdstown is a small town of 1200 citizens. Shepherd University is right in the center of the town and partners with the Shepherdstown WV Street Fest to offer free handicapped accessible shuttle service is provided between the university parking lots from 9:30 am to 9:30 pm. Visitors are encouraged to use this shuttle service as parking in town is extremely limited.
Street Fest organizers are excited that the festival is able to attract such caliber of musical talent. "Big Leg Emma is the crown jewel of a powerful main stage lineup," said Chris Crawford, Main Stage Coordinator. "Great harmonies, great musicians, and a great mix of recognizable covers and great originals."
About GoBlueRidgeTravel.com
Founded in 2011, GoBlueRidgeTravel.com (GoBRT), a division of Encore Event Partners is the only regional website showcasing the activities, events and accommodations in the Blue Ridge Mountains and northern Shenandoah Valley. With a ten year relationship of marketing the region to brides for their wedding destinations, GoBRT is now reaching out to families branding the trademark 'GoBRT's Kids Bucket List' showcasing the experiences tots to teens should have prior to turning eighteen in the valley. Covering Virginia and West Virginia, Go Blue Ridge Travel's goal is to brand this 100 mile radius as a travel and wedding destination both nationally and internationally. To see what Go Blue Ridge Travel has to offer, visit http://goblueridgetravel.com/.