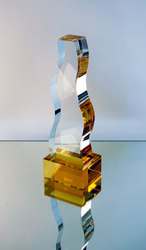 Having our work singled out from entries from so many different countries around the world is a tremendous honor.
Portland, OR (PRWEB) December 17, 2009
Celebrating its sixteenth year, the Summit Creative Award continues to spotlight excellence in small and medium advertising agencies from around the globe. The international creative competition, sponsored by the Summit International Awards (SIA) organization, is open to marketing firms, advertising agencies, interactive media companies, marketers and freelance individuals with billings under $30 million. Recognized worldwide as the industry's most prestigious award given exclusively for works created by small and mid-size firms, the Summit Creative Award has become a coveted honor that draws the highest caliber of contestants from around the globe. Winners attain international recognition, attract new accounts, impress existing clients, and reward creative teams.
"Creativity has come full circle in the last few years. It has gone through various stages of technology, bandwidth issues, target dynamics and is settling down to getting the job done effectively and beautifully," said Tom Roy, Chief Innovations Officer at MCN/Interpublic Group. "The Summit Creative Award is recognition of creativity that delivers to the task. Creative that reaches the target audience effectively, clearly - and with creative panache. That's why to be judged a winner, creative - online or off - needs to be clear, precise, compelling and outstanding."
New Categories:
This year's awards will be given in 23 creative areas. "There is a fast pace to the latest marketing and advertising trends these days and the Summit Awards works hard to identify them." said Jocelyn Luciano, Executive Director of the Summit International Awards. New categories like Social Media and Mobile Marketing are represented along with the ever-evolving categories of Emerging Media and Branding.
Benefits:
As well as the international recognition and prestige, the SIA assists winners press campaigns by providing a multitude of publicity tools. The organization also serves as a resource for industry news and hosts links to related information. It is the only recognition program that hosts advertising microsites on behalf of its competition winners and pushes web traffic to sector inquires. The public can also learn about current and past winners and view many winning submissions on the SIA web site.
Deadline: January 25, 2010
How to Enter:
Entrants can participate by using the Summit Awards online entry system or by standard mail.
Summit International Awards:
The SIA organization is dedicated to furthering excellence in the communications industry. It administers rigorous award competitions throughout the year with the goal of recognizing companies and individuals that go reach beyond expected standards. Throughout its sixteen-year history, the SIA has established itself as one of the premier arbiters of creative and communication excellence.
Using rigorous evaluation criteria, top industry professionals and a blind judging processes, its competitions reward only those truly deserving of special recognition. The SIA organization conducts three annual competitions: the Summit Creative Award SCA, the Summit Marketing Effectiveness Award MEA and the Summit Emerging Media Award EMA .
For more information on the Summit Creative Award or to obtain an entry kit for the 2010 competition, visit the SIA web site or call 503-297-9979. Deadline for all entries in the 2010 creative competition is January 25, 2010.
You can also find the SIA on social networks: YouTube, Facebook, Twitter.
# # #