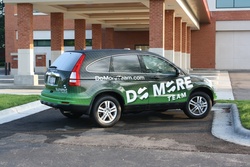 There are a million ways we can help others with just one good deed," said Rebecca Gerothanas, Senior VP, Marketing, Summit Credit Union. "We're excited to see the impact the DoMore Team can make in our communities, one kind and spontaneous act at a time.
Madison, WI (PRWEB) June 2, 2010
Today, Summit Credit Union introduced the DoMore Team, a group of community members whose mission is simple: deliver spontaneous acts of kindness. Through the do-good "summits," the team will better the day of complete strangers with nothing expected in return.
Some do-good summits will be planned and others will be spur-of-the-moment, but the purpose will remain the same: to do good for others.
Be sure to follow the DoMore Team this summer!
Facebook: http://www.facebook.com/summitdomore
YouTube: http://www.youtube.com/summitcreditunion
Twitter: http://twitter.com/summitdomore
DoMore Team Summits

Sunday, June 13 Madison, Capitol View Triathlon
Wednesday, July 14, Madison, Salvation Army Christmas in July
Saturday, August 14, Madison, UW Campus Move-in
About Summit Credit Union:
At Summit Credit Union, we don't sell products, we build relationships. You can trust that we'll provide honest advice and real solutions. Helping you secure a bright financial future is our only goal.
And as a not-for-profit financial cooperative, our profits are returned directly to you. That means the more you use us, the more you receive.
Anyone can join Summit Credit Union. Once you're a member, you're a member for life. If you move, retire, or change jobs, you'll always be able to enjoy the benefits of membership.
###