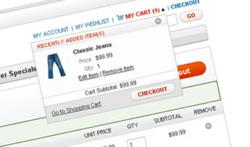 (PRWEB UK) 23 August 2012
Summit has been selected by Magento to become a Gold Partner. This award recognises the work Summit has done with Magento since they launched in the UK and the expertise the Company has in Magento integration of their Enterprise Ecommerce platform and retailer back office systems.
The biggest challenge facing retailers in this new world of agile and flexible eCommerce solutions is the need to deliver a flawless customer experience. As retail technology specialists, Summit understands that an essential component of this involves overcoming the complexities involved in the integration of existing back-office systems.
Summit has developed a retail-specific middleware layer that simplifies integration between Magento Enterprise and retailers' existing systems such as ERPs, CRM and logistics. This interface removes the need for custom development when changes are made to the ecommerce platform, which frees up retailers to exploit the freedom and creativity offered by platforms such as Magento.
About Summit
We provide retail consulting, ecommerce and online marketing to transform the way leading retailers trade online. We give them the advice, technology and marketing they need to grow their business. We make it more likely that people will buy from them, than from anyone else.