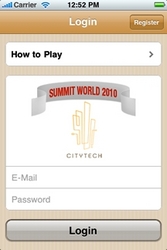 Chicago, IL (Vocus) June 15, 2010
The Summit World Q&A Sweepstakes mobile application, an innovative app created by CityTech, Inc., a Chicago-based IT consultancy, will debut at the 2010 Red Hat Summit/JBoss World conference in Boston, June 22-25. CityTech leveraged JBoss technologies, including Infinispan, ModeShape and RESTEasy, to create a highly available and scalable application that conference participants can use to play a sweepstakes trivia game.
The Summit World application achieves scalability by backing content on Amazon's cloud computing platform, EC2, using the JBoss Infinispan data grid platform. JBoss RESTEasy is used to expose the coarse grained business services which are consumed by both the native Android and native iPhone mobile applications as well as a traditional browser application. JBoss HornetQ is used to capture system events asynchronously while an Adobe Flex based rich client displays these events in leader board format in near real-time.
"Mobile applications and cloud computing go hand-in-hand. This forward-thinking architecture enables the system to scale for just a few mobile users to a virtually unlimited number of users almost instantly by spinning up Amazon EC2 instances. The core of the server-side architecture is JBoss' Infinispan distributed data cache, which provides ultimate scalability and very low latency for retrieving data that is consumed by the Android and iPhone based mobile applications. With the viral growth of mobile applications today, having a backend architecture that can scale overnight using a public cloud such as Amazon can be a competitive advantage to organizations," says Matt Van Bergen, CTO of CityTech, Inc.
Red Hat Summit/JBoss World conference attendees are invited to use the application to enter the Summit World Q&A Trivia Sweepstakes, a trivia game where participants answer JBoss questions for a chance to win a sweepstakes prize. The Summit World 2010 app can be downloaded from the Apple App Store and the Google Marketplace, or accessed online.
CityTech technical architects will be on-hand in the JBoss World Partner Pavilion to explain how they used JBoss technologies to develop the Summit World app and to discuss other enterprise application-related topics at large.
About CityTech, Inc.
CityTech is a Chicago-based IT consultancy and Red Hat JBoss Advanced Business Partner specializing in the development of highly available, extensible and scalable enterprise applications. We believe the best enterprise solutions are created by technical architects who understand business-related issues and possess the expert knowledge of strategic technology platforms used today and positioned for tomorrow. CityTech consultants' grasp of both business and technology ensures that the systems we design won't constrain your organization, but can adapt to meet ever-changing business needs. For more information on CityTech, contact Matt Van Bergen at 312.673.6433 x111 or Melissa Geoffrion at 312.673.6433 x148.
###