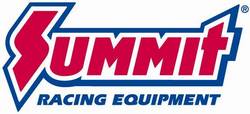 The Summit Racing Equipment Show Car Series is an excellent opportunity for Summit Racing to support show car and street car enthusiasts
Tallmadge, OH (Vocus) July 22, 2009
Summit Racing Equipment has become the primary sponsor of America's premier custom car show series: the Summit Racing Equipment Show Car Series (formerly the GM Performance Parts Show Car Series). The series features 35 Autorama and World of Wheels shows scheduled for 2009-2010, including the Detroit Autorama and Chicago World of Wheels.
The Summit Racing Equipment Show Car Series will showcase custom cars, trucks, motorcycles, hot rods, race vehicles, antique cars, and other vehicles worth millions of dollars. The events are expected to attract over two million attendees. The shows include an International Show Car Association (ISCA)-sanctioned competition for show car exhibitors in seven categories, including Truck/Van, Competition, Rod, Custom, Bike, Antique/Restored, and Street Machine. Contestants vie for part of a total series purse of $85,000 and compete for several additional prestigious awards such as the Detroit Autorama's famed Ridler Award.
Summit Racing Equipment will attract spectators and exhibitors at the events with an all-new, custom-built display which will serve as Summit Racing Equipment "headquarters" at 18 of the key events in 2010. "The Summit Racing Equipment Show Car Series is an excellent opportunity for Summit Racing to support show car and street car enthusiasts," Jim Greenleaf, Summit Racing Equipment Motorsports and Events Manager, said. "If you own a hot rod, have owned one in the past, or plan to build a hot rod, these shows have something for you."
Summit Racing Equipment is committed to supporting future high performance enthusiasts through the Summit Racing Equipment Show Car Series. Twenty of the 35 shows will include Student Career Days for area high school students. Student Career Days will feature a special Friday morning reception, guest speakers, and a chance to walk through the show before the general public. "We're proud to support education for young enthusiasts with programs like Summit Racing Equipment Show Car Series Student Career Days," Greenleaf said. "We're expecting over 14,000 students to participate in this year's programs."
Many of the shows will also include the Kid's Choice Awards presented by Summit Racing for younger attendees. This special award program allows children under the age of 15 to vote for their favorite show car. "The Kids Choice Award was very popular last year," Greenleaf said. "Kids know a cool car when they see it--their picks were some of the coolest cars at the shows!"
Peter A. Toundas, President of Championship Auto Shows, the largest producer in the series, sums it up this way: "Summit Racing Equipment has made a four-year commitment to sponsor our series. Their partnership and commitment to the growth of our sport will resonate throughout convention centers around the country."
The Summit Racing Equipment Show Car Series, which is also the largest indoor car show series in the United States, kicks off November 6-8, with the Birch Run World of Wheels in Birch Run, Michigan. Please see the attached file for the complete schedule.
Established in 1968, Summit Racing Equipment is the leading high performance parts and accessories company. Summit Racing offers the largest selection, lowest prices, and best customer service in the high performance industry via catalogs, Internet, and Retail Super Stores. The company is headquartered in Tallmadge, Ohio with retail stores in Tallmadge, Ohio; Sparks, Nevada; and McDonough, Georgia.
Contacts:
Jim Greenleaf, 330-633-2555, x7452
Lynn Burbary, 248-373-4800, x209
# # #