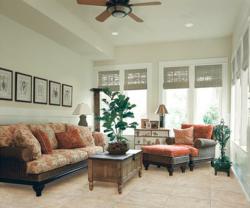 Sun rooms evolved from British conservatories – indoor greenhouse rooms designed to let occupants enjoy tropical plants (and weather) in an often dreary and damp climate.
(PRWEB) May 29, 2013
HomeThangs.com– the Online Home Improvement Store has made their goal to deliver the right product to the consumer. With that in mind, shopping and home design tips, as well as special product selections are being introduced.
Sun rooms are home additions that are more enclosed than a porch, but less insulated than the main house, filled with large windows designed to keep the worst of the weather out while letting in as much nature as possible. HomeThangs.com has released an introduction to these relaxing, sun-soaked sitting spaces.
1. So What Is A Sun Room?
Sun rooms are called by several different names in different regions, like Florida rooms, patio rooms, solariums, conservatories, or sun parlors, porches, or lounges. Essentially, they're an uninsulated addition to the home that's typically slightly larger than an enclosed porch. Designed with large wall-to-wall windows or French doors and often skylights, these offer the next best experience to sitting outside while staying protected from the elements. Unlike classic conservatories, sun rooms aren't typically used as greenhouses for growing plants (though they can be), but are really mostly concerned with maximizing sunlight year round.
2. Comfortable Furniture
Ever since the original conservatories of Great Britain, sun rooms have favored a decor that's one part tropical and one part garden party. Styles range from tropical cabanas to bright, open, cottage-style spaces. In either case, white is far and away the most dominant color, followed by warm, light browns and greens and cheery, colorful patterns. Natural materials, like rattan and wicker, are common, but and are often paired with puffy, oversized cushions and whitewashed walls and ceilings. Sun rooms can, of course, be decorated with interior furniture (antiques work especially well) or with a set of outdoor furniture that might not hold up outdoors in the off season.
3. Indoor/Outdoor Flooring
While sun rooms are more or less a finished part of the home, they're also at least partly an outdoor space. With big windows or glass doors open to the back yard or garden on three sides, sun rooms are more like a very well covered patio. This blend of indoor/outdoor space can be further enhanced by choosing flooring that's commonly used outside. Brick, tile, wood, and flagstones all create an outdoorsey vibe, while casual rugs or bamboo mats can soften a hard floor and enhance a cottage or island inspired ambiance. Rugged, easy to clean flooring material can even allow the sun room to double as a mud room for gardeners or dog owners.
4. A Touch Of Green
Sun rooms evolved from British conservatories – indoor greenhouse rooms designed to let occupants enjoy tropical plants (and weather) in an often dreary and damp climate. While these have largely been replaced by central heating, adding a plant or two to a sun room is a great way to merge the indoor space with outdoor landscaping. Tropical plants like rubber trees and palms contribute to an island theme, while more traditional British botanicals can extend a well-kept garden, making an excellent space for "outdoor" entertaining in areas where the weather isn't always amenable.
5. Ceiling Fans
Because sun rooms are covered in windows and are typically both uninsulated and unairconditioned, they can get a little toasty in the summer months, and a little cool in the winter months. Installing a ceiling fan or two is a good way to counter this. In the summer, ceiling fans help draw cool air up through the room and create a light breeze, and by reversing the blades in winter, they can force warm air that gathers near the ceiling down into the rest of the room. Fans with wide, paddle-shaped bamboo or rattan blades are a great way to add a tropical, island-inspired flair to a sun room, but really any fan will do.
6. Fireplaces And Stoves
Sun rooms are inherently designed for passive solar heating. With so many windows, solar heat enters the room and stays inside. But in northern climates with harsh winters, it can be wise to supplement the room with a small fireplace or potbellied stove. Wood burning, gas, electric, or biofuel fireplaces or stoves can easily heat a small sun room, turning a three season room into a four season room.
To see some beautiful examples of sun room design, view the full article here.
HomeThangs.com is not only a home improvement superstore, it also provides expert design tips and a comprehensive shopping guide, taking the ideas from professional interior designers, and offering tips to the consumers on how to pick the products to best suit their needs.