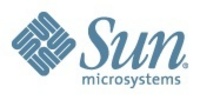 The Network is the ComputerTM
SANTA CLARA, Calif. (PRWEB) August 1, 2008
"The Board's approval of the additional share repurchase program reflects its confidence in the continued growth of Sun's business and an ongoing commitment to increase shareholder value," said Jonathan Schwartz, CEO of Sun Microsystems. "With $3.3 billion in cash and marketable debt securities, we have maintained a strong balance sheet and feel confident that this program will allow us to further pursue strategic opportunities for growth."
The stock repurchase authorization does not have an expiration date and the pace of repurchase activity will depend on factors such as levels of cash generation from operations, cash requirements for acquisitions, repayment of debt, current stock price, and other factors. Sun may repurchase shares from time to time on the open market or in private transactions, including structured transactions. The stock repurchase program may be modified or discontinued at any time.
The repurchase plan announced today is in addition to the $3 billion share repurchase program announced in Sun's fourth quarter of fiscal 2007. There is currently $36 million remaining of the $3 billion prior share repurchase program.
About Sun Microsystems, Inc.
Sun Microsystems develops the technologies that power the global marketplace. Guided by a singular vision -- "The Network is the ComputerTM" -- Sun drives network participation through shared innovation, community development and open source leadership. Sun can be found in more than 100 countries and on the Web at http://sun.com.
Sun, Sun Microsystems, the Sun logo and The Network Is The Computer are trademarks or registered trademarks of Sun Microsystems, Inc. or its subsidiaries in the United States and other countries.
This press release contains forward-looking statements that are based on Sun's current expectations, including statements regarding Sun's plans and expectations with respect to its new share repurchase program, its confidence in the continued growth of its business and its ongoing commitment to increase shareholder value, and its ability to continue to pursue strategic opportunities for growth. Factors that could cause actual results to differ materially from those contained in such forward-looking statements include, but are not limited to: future alternative uses for cash, future competing investment opportunities and general economic, business and market conditions. Please also refer to Sun's periodic reports that are filed from time to time with the Securities and Exchange Commission, including its Annual Report on Form 10-K for the fiscal year ended June 30, 2007 and its Quarterly Reports on Form 10-Q for the fiscal quarters ended September 30, 2007, December 30, 2007 and March 30, 2008. Sun assumes no obligation to, and does not currently intend to, update these forward-looking statements.