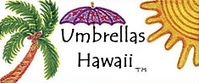 As many as 66,000 people a year die from too much sun, mostly malignant skin cancer
Honolulu, Hawaii (PRWEB) September 16, 2008
Umbrellas Hawaii steps up to the challenge of global warming with sun blocking umbrellas, as earth's natural protective shield, the stratospheric ozone layer, is being destroyed.
The Royal Society of Chemistry on April 21, 2008 released ''Global warming cancer warning,'' which states, "Global warming could lead to higher rates of skin cancer by amplifying the harmful effects of the sun's rays."
"As many as 66,000 people a year die from too much sun, mostly malignant skin cancer," reports the World Health Organization.
Owner and designer of Umbrellas Hawaii, Annie O'Connor Hughes experienced several incidences of basal cell carcinoma, a type of skin cancer, from 1998-2004. Living in a tropical climate where the average UV index is above 10 daily, she needed serious sun protection. As an alternative to sun block lotions and big hats, she created "island style" sun blocking umbrellas, which are tested and certified to block 97% of UV radiation.
It is estimated that a 10% decrease in ozone levels will result in an additional 300,000 non-melanoma and 4,500 melanoma skin cancers per year. Clearly a focus must be placed on adaptation to global warming. Shade is the recommended prescription from dermatologists worldwide. Sun shade has been a concern for thousands of years, with the umbrella originally created for sun protection as early as 2000 B.C.
Fast forward to today's ozone diminishing world, and see this ancient invention become a current arc of protection. Umbrellas Hawaii combines exotic island prints with the latest UPF (ultra violet protective factor) fabrics, which offers a powerful sun shield.
"I wanted to create a sun umbrella/parasol that was fun and sassy for today's sun savvy who are seeking powerful UV protection," states Annie O'Connor Hughes. Offering a rainbow selection of tropical prints, such as "Golden Sunshine," "Red Lava," "Hot Pink Salsa," "Raspberry Tea" and "Macadamia Nut Tan," and lining them with color complimenting UPF fabrics, Umbrellas Hawaii provides a powerful accessory for any skin care regimen.
The good news is skin cancer is preventable simply by avoiding the sun. Use technologies latest advances in sun blocking tools, such as UPF fabrics, which are used in clothing, sun umbrellas/parasols, and hats. Know the UV index for your neighborhood on the planet, which forecasts ozone levels in relation to incoming UV radiation levels. The higher the UV index rating, the greater the risk for skin and eye damage.
Umbrellas Hawaii are sold on http://www.umbrellashawaii.com for $70.00, and in Hawaii at several island resort wear shops, and art & design gift shops, which are listed on the website.
Skin cancers are in epidemic proportions worldwide. For more sun protection information visit the following websites: Cancer.org, CDC.gov, AAD.org, WHO.int, EPA.gov.
For more information on Umbrellas Hawaii visit http://www.umbrellashawaii.com or call Annie O'Connor Hughes at (808) 943-6238.
###