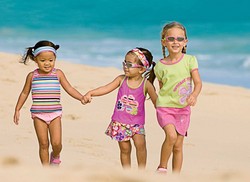 Part of our mission is to educate parents about sun protection
(Vocus) March 4, 2008
When it comes to protecting their kids from dangerous UV rays, parents are starting to get the message, as evidenced by a growing demand for children's UPF clothing.
Based on last year's record sales, one leading cataloguer has expanded its 2008 collection, while making it easier for families to "go green" at the beach.
In 2007, Chelsea & Scott, Ltd. — creator of the award-winning One Step Ahead and Leaps and Bounds catalogs — launched Sun Smarties™, its exclusive line of UPF 50+ beachwear. Many styles sold out by midseason.
"This year, we expanded the collection and ramped up production," says President Karen Scott. "And it's all mix and match, for easy dressing."
While sun protective clothing has been around for a while, often the treated fabrics have been considered too stiff and scratchy for children's skin.
Which is why, when designing Sun Smarties™, Chelsea & Scott's product development team made a point of selecting the softest available fabrics, including 100% cotton, breathable terrycloth, and stretchy nylon/spandex.
Everything is UPF 50+, the highest level of protection available in the U.S. Some other lines max out at UPF 30+, which may account for some of Sun Smarties™ success.
"Part of our mission is to educate parents about sun protection," says Scott. "According to the American Association of Pediatrics, just two serious sunburns increase a child's lifetime risk of skin cancer."
The Sun Smarties™ line includes tee shirts, bathing suits, playwear, and cover-ups, as well as coordinating sunhats, sunglasses, and footwear. Last year's best-sellers included wetsuits and rash guards, which offer more comprehensive skin coverage, as well as reusable swim diapers.
Cloth swim diapers aren't just more hygienic than waterlogged disposables, they're also much more earth-friendly. Each year, more than 18 billion disposables wind up in U.S. landfills, where they lay decomposing for the next half-century.
One Step Ahead has successfully sold cloth swim diapers for years. However, as American families become more environmentally aware, sales are anticipated to rise.
"Our swim diapers have always been popular, because they're easier and more sanitary than disposables, but this year we expect even greater demand," says Scott.
"Our customers want to protect their kids, while doing right by Mother Earth," says Scott.
About Chelsea & Scott
Chelsea & Scott Ltd, a privately-held company located in Lake Bluff, IL, specializes in quality, hard-to-find baby and children's products. Founded by two parents who wanted the best for their own children, Chelsea & Scott rigorously pre-tests the products it sells and has a growing private label collection.
For more information, contact:
Cathy Liginski
847-615-2110 x4571
cliginski@onestepahead.com
###