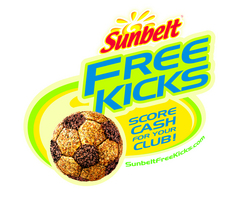 US Youth Soccer is very excited to see our partner, Sunbelt, actively engaging in the US Youth Soccer community with their Sunbelt Free Kicks program, which offers great member benefits through cash giveaways, great individual prizes and additional cash prizes
Collegedale, TN (Vocus) March 19, 2010
Six months ago, Sunbelt® launched its Free Kicks program in an effort to help US Youth Soccer players and their families and friends raise money for soccer equipment, supplies and other club expenses. Today, the company is pleased to announce that it has given more than $20,000 in donations and prizes to players and soccer clubs so far.
According to Jeff Badger, Sunbelt brand manager, Sunbelt has awarded six soccer clubs $1,000 each through its monthly drawing, including February winner, St. Robert's Soccer Club of Omaha, Neb. In addition to the monthly winners, Monona Grove Soccer Club of Madison, Wis. was recently selected as the first $2,500 winner through the program's semi-annual drawing. Plus, Sunbelt is sending cash payments from $10 to $100 to more than 700 soccer clubs that have participated in Free Kicks across the country.
Participants in the Sunbelt Free Kicks program earn cash for their soccer clubs by going online to SunbeltFreeKicks.com and entering codes located on specially marked box tops of Sunbelt granola bars and Sunbelt fruit and grain bars. In addition to the money clubs earn from entering the codes, they are also automatically entered into monthly and semi-annual cash drawings.
"What Sunbelt is doing through its Free Kicks program and sponsorship of US Youth Soccer is extremely important for the future of soccer, especially at the youth level," said Mark Casasanto, whose South Philadelphia Soccer Club (SPSC) won $1,000. "Soccer is an expensive sport to play, and Sunbelt is helping us, and all the clubs affiliated with US Youth Soccer, keep the cost down for kids. So every little bit helps."
Scott Dane, executive director of the Capital Area Soccer League (CASL), can also attest to the importance of the Free Kicks program. "We put our $1,000 donation into a financial aid fund. Lansing's economy has been devastated, and the need for financial assistance has grown tremendously. $1,000 gives approximately 15 players the opportunity to participate in our league at no cost."
As the official granola snack of US Youth Soccer, Sunbelt is committed to helping soccer clubs across the country like CASL and SPSC make soccer available to players at all levels, and it will continue to do so through its sponsorship and Free Kicks program.
"US Youth Soccer is very excited to see our partner, Sunbelt, actively engaging in the US Youth Soccer community with their Sunbelt Free Kicks program, which offers great member benefits through cash giveaways, great individual prizes and additional cash prizes," said Jim Cosgrove, executive director for US Youth Soccer.
"It's great to see how far the Sunbelt Free Kicks loyalty program has spread after only six months," said Badger. "Nutrition and physical fitness are cornerstones of Sunbelt, and sponsoring US Youth Soccer is a great way to demonstrate our commitment in these areas."
About Sunbelt
McKee Foods, a family-owned and family-oriented company based in Collegedale, Tenn., introduced the Sunbelt brand in 1982. The Sunbelt brand includes 29 different varieties of cereal and snack products, including chewy granola bars, fudge dipped chewy granola bars, fruit & grain cereal bars, fruit snacks, cereals and more. To learn more about Sunbelt® snacks and cereals, visit http://www.sunbeltsnacks.com.
Media Contacts:
Mike Gloekler
McKee Foods
800-251-6346, ext. 22440
Brian Baker
The Johnson Group
423-424-3075
###