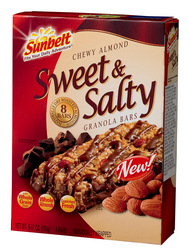 We expect Sweet & Salty Chewy Almond Granola Bars to be a big hit with consumers because of the unique pairing of roasted almonds and chocolate
Collegedale, TN (Vocus) October 28, 2009
Sunbelt®, the makers of great-tasting, nutritious snacks and cereals, introduces the perfect combination of sweet and salty flavors with its new Sweet & Salty Chewy Almond Granola Bars.
"Sunbelt Sweet & Salty Chewy Almond Granola Bars are the perfect choice for on-the-go consumers looking for a healthier, great-tasting snack at an affordable price," said Sunbelt Brand Manager Jeff Badger.
This great-tasting new bar combines the goodness of whole grain oats with roasted almonds, a fudge coating on the bottom and a sweet, chocolaty drizzle. Each bar is individually wrapped, with eight bars to a box. The suggested retail price is $2.59 per box.
"We expect Sweet & Salty Chewy Almond Granola Bars to be a big hit with consumers because of the unique pairing of roasted almonds and chocolate," said Badger. "This product is a great addition to our Sweet & Salty Peanut variety, which is currently one of our fastest selling Sunbelt products."
The new Sunbelt Sweet & Salty bars should be available on store shelves nationwide by the end of October 2009. For more information, visit SunbeltSnacks.com.
(Media note: Product samples available for review.)
About Sunbelt
McKee Foods, is a family owned and family oriented company, based in Collegedale, Tennessee, introduced the Sunbelt brand in 1982. The Sunbelt brand includes more than 25 different varieties of healthy cereal and snack products, including Chewy Granola Bars, Fudge Dipped Chewy Granola Bars, Fruit & Grain cereal bars, Fruit Jammers and cereals and more. To learn more about Sunbelt snacks and cereals, visit http://www.sunbeltsnacks.com.
Media Contact:
Brian Baker
423.424.3075
bbaker (at) johngroup (dot) com
###