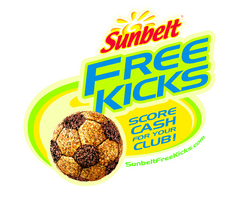 I was stunned. I thought she was kidding me.
Collegedale, Tenn. (Vocus) March 24, 2010
When Lisa Pulvermacher first heard that the Monona Grove Soccer Club (MGSC) had won $2,500 through the Sunbelt® Free Kicks program, she thought it was a joke.
"Our club treasurer, Deb Tomesh, called and said she had just gotten off the phone with someone from Sunbelt who told her we were selected as the first $2,500 Free Kicks winner," said Pulvermacher, who refers to herself as the first lady of the club because her husband, Carl, is the president. "I was stunned. I thought she was kidding me."
But Tomesh wasn't kidding. While six soccer clubs have been awarded $1,000 through the Free Kick monthly cash drawing, MGSC is the first club out of more than 700 clubs across the nation that have entered the randomly drawn contest to win the big $2,500 drawing held twice a year.
"It takes a lot of time, energy, volunteers and, more importantly, money to run a soccer club, and every penny counts," said a grateful Pulvermacher. "We struggle every year to raise enough money to provide the best soccer experience for the children in our community. This donation will go a long way towards helping us with our field development needs, as well as providing more scholarships for families in need."
In addition to the $2,500 donation, MGSC soccer players and their families and friends are earning more cash for their club by going online to SunbeltFreeKicks.com and entering codes located on specially marked box tops of Sunbelt granola bars and Sunbelt fruit and grain bars. It's all part of the Free Kicks program, a nationwide effort sponsored by Sunbelt that helps US Youth Soccer clubs raise money for soccer equipment, supplies and other club expenses.
"With the selection of Monona Grove as our first $2,500 Free Kicks winner, Sunbelt has now given more than $20,000 in donations and prizes to players and soccer clubs so far," said Jeff Badger, brand manager of Sunbelt. "Nutrition and physical fitness are cornerstones of Sunbelt, and sponsoring US Youth Soccer is a great way to demonstrate our commitment in these areas."
About Sunbelt
McKee Foods, a family-owned and family-oriented company based in Collegedale, Tenn., introduced the Sunbelt brand in 1982. The Sunbelt brand includes 29 different varieties of cereal and snack products, including chewy granola bars, fudge dipped chewy granola bars, fruit & grain cereal bars, fruit snacks, cereals and more. To learn more about Sunbelt® snacks and cereals, visit http://www.sunbeltsnacks.com.
Media Contacts:
Mike Gloekler
McKee Foods
(800) 251-6346, ext. 22440
Brian Baker
The Johnson Group
423.424.3075
###