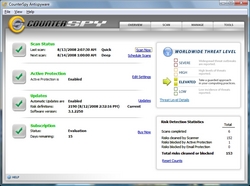 CounterSpy 3 is designed for users who want to layer their existing antivirus solution with an antispyware program
Clearwater, FL (PRWEB) August 18, 2008
Sunbelt Software, a leading provider of Windows security and management software, today announced the release of Version 3 of CounterSpy™, its award-winning best-of-breed antispyware software. The new version delivers comprehensive spyware and malware protection with the same high performance and low system resources as Sunbelt's recently released VIPRE™ Antivirus + Antispyware product.
On the heels of the VIPRE product announcement in July, Sunbelt introduces CounterSpy as a pure-play antispyware solution that includes the major functionality of VIPRE, without features specific to antivirus detection and remediation. CounterSpy's next-generation technology provides powerful spyware protection against today's highly complex malware threats, without the performance and resource headaches of many competing antispyware products.
"CounterSpy 3 is designed for users who want to layer their existing antivirus solution with an antispyware program," said Alex Eckelberry, CEO of Sunbelt Software. "Additionally, many users complain of bloat in existing applications. CounterSpy delivers a solution that not only is complementary to other antivirus solutions, but also provides high performance."
Proprietary antispyware detection engine uses all-new technology
CounterSpy uses an all-new antispyware engine that merges the detection of all types of spyware and adware into a single, efficient, and powerful system.
CounterSpy uses multiple techniques to inspect the characteristics of potentially threatening files. From signature-based detection to dynamic, sophisticated analysis of malware files, CounterSpy quickly determines whether a file is good or bad -- enabling comprehensive detection of both existing and new unidentified threats.
High-performance with low impact on system resources
User surveys show the biggest frustration with many security solutions is bloat and high resource usage. Just like VIPRE, CounterSpy addresses these concerns: Designed with the latest programming and architectural methodologies, it runs seamlessly without significantly impairing system performance. CounterSpy is also designed for an unobtrusive user experience, keeping notification pop-ups and warnings to a minimum.
Advanced anti-rootkit technology
CounterSpy's anti-rootkit technology finds and disables malicious hidden processes, threats, modules, services, files, Alternate Data Streams (ADS), or registry keys on a user's system. Removing rootkits is supplemented by FirstScan™, which runs at the system's boot time. FirstScan bypasses the Windows operating system, to directly scan certain locations of the hard drive for malware, removing infections where found.
Real-time monitoring with Active Protection™
Active Protection delivers real-time monitoring and protection against known and unknown spyware and malware threats. Active Protection works inside the Windows kernel (the core of the operating system), watching for malware and stopping it before it has a chance to execute on a user's system.
Active Protection incorporates three methods to protect the user: signature matching, comparing a file for an exact match against Sunbelt's threat definition database; heuristic analysis, which looks at the internal characteristics of a file to determine the likelihood that it is malware; and behavioral analysis, observing the actual actions of a program to determine if it is possibly malware. The combination of these three techniques provides an extraordinarily powerful level of real-time protection to the user. (Active Protection can work alongside the real-time detection components of a number of popular antivirus programs. However, users are generally cautioned against running two real-time detection systems at the same time, due to the possibility of conflicts or performance impact.)
Pricing, availability and system requirements
A 15-day fully functioning trial version of CounterSpy is available on Sunbelt Software's website at http://www.sunbeltsoftware.com.
For an annual subscription price of $39.95, all PCs in a single household can be protected with a single site license. A single user annual subscription is $19.95, and 3-user subscription is $29.95. Annual subscriptions include one year of threat definition updates, software upgrades, and live US-based toll-free technical support. An upgrade to CounterSpy version 3 is available to all existing customers of CounterSpy who have a current subscription plan.
CounterSpy works with Windows 2000 SP4 RU1, XP SP1, 2, and 3 (32 and 64 bit), and Vista (32 and 64 bit) and requires a minimum Internet connection speed of 56 Kbps. Minimum hardware requirements: IBM-compatible 400 MHZ computer with 128MB of RAM and 150MB of free hard disk space. Internet Explorer 6.0 or higher required. Installation of CounterSpy is not supported on Windows 95, 98, or Me, XP without Service Packs, Macintosh or Linux computers.
View a brief movie on YouTube of the award-winning antispyware software, CounterSpy Version 3.
About Sunbelt Software
Headquartered in Tampa Bay (Clearwater), Fla., Sunbelt Software was founded in 1994 and is a leading provider of Windows security and management software with product solutions in the areas of antispam and antivirus, antispyware, and vulnerability assessment. Leading products include the CounterSpy and VIPRE product lines, Ninja Email Security, Sunbelt Exchange Archiver, and endpoint firewall technologies. The company is part of Sunbelt International Group, based in Paris, France.
For more information about Sunbelt Software, please visit the company's website at: http://www.sunbeltsoftware.com. To learn more about current activities, products, and ideas at Sunbelt Software, please visit Sunbelt's corporate blog at http://www.sunbeltblog.com.
Copyright © 2008 Sunbelt Software. All rights reserved. All trademarks used are owned by their respective companies.
###