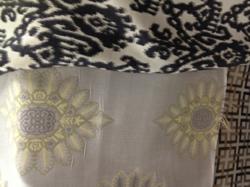 San Mateo, CA (PRWEB) November 14, 2012
Sunbrella is the #1 name in outdoor and indoor/outdoor fabrics, many suitable both as upholstery fabrics and drapery fabrics. Made from 100% solution-dyed acrylic, these fine fabrics resist mildew, moisture, and fading, and are exceptionally durable. Norman S. Bernie Co., with the finest decorative fabric inventory in Northern California, and having served San Francisco Bay Area customers for over 55 years, has a beautiful selection of Sunbrella fabrics, in a wide range of styles and colors.
And today, Norman S. Bernie Co. is announcing the recent arrival of an exciting new selection of Sunbrella's incomparable acrylic indoor/outdoor decorative fabrics. These fabrics have a tremendous number of end uses: as upholstery fabrics for outdoor furniture as well as indoor furniture, especially where durability is a priority; and because they drape so beautifully, these fabrics can be used for curtains as well.
Customers at Norman Bernie Co. can choose from a wide range of colors and patterns from Sunbrella's indoor/outdoor line, including solids, tweeds, tone-on-tone, solid-color, and multi-color stripes, geometrics, florals, nautical patterns, and more.
And more impressive, perhaps, than these incredible indoor/outdoor decorative fabrics are the significant discounts available on all in-stock Sunbrella fabrics. So why wait? While there is plenty of available inventory, head over to Norman S. Bernie Co., where customers consistently find the highest quality customer service and greatest selection of fabrics, including the currently featured Sunbrella fabrics, at amazingly discounted prices.