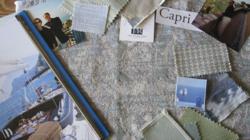 While all of the new patterns are inspired by classic textiles, they all have a contemporary feel and relevance for today's consumers
HIGH POINT, N.C. (PRWEB) September 20, 2011
Drawing upon his extensive world travels and rich family heritage, Joe Ruggiero is introducing a new globally-inspired collection of Sunbrella® fabrics – "Italian Classico" – during the fall Furniture Market in High Point. Inspirations for the new fabrics include Italian frescos, architecture and apparel, each of which help to define Ruggiero's classic and timeless aesthetic.
"While all of the new patterns are inspired by classic textiles, they all have a contemporary feel and relevance for today's consumers," Ruggiero said. "One of the most exciting additional aspects of this collection is the colorways for the new patterns."
Ruggiero's fall market fabrics are organized in four groups – Veneto, Tuscany, Milano and Capri – and will be featured in the Miles Talbott showroom in High Point. Italian Classico is the common thread throughout the Joe Ruggiero Collection this fall, including upholstery, window treatments, case goods, lighting, artwork and throws.
"My family immigrated to America from Sicily and Calabria, and I have traveled extensively throughout Italy," Ruggiero said. "The earthy, muted colors that dominate the Italian landscape are the ideal complement to warm woods; it's a comforting look for consumers who want to create relaxing, reassuring spaces at home."
The first group in the new Italian Classico collection is Veneto, which is inspired by Pilladio architecture and the green richness of the Italian countryside surrounding Venice. The lead pattern in this group is Germaine, an intricate basket weave effect offered in the color Cactus.
Other Veneto patterns include Tamaran, an innovative textile construction that gives the fabric a subtle, rich appearance, also in Cactus. Also featured in the group is Kenya in Leaf, which is a fern-like color.
The second group within Italian Classico is Tuscany, which is based on the elegant look of villas within the Tuscan countryside. Venezia is the lead pattern in this group, which has the look of Italian silk damask and is offered in a new color Pewter.
Also in the Tuscany group is Espadrille, which resembles the classic design of shoe by the same name, and the pattern Max, which has been renamed Maxim and offered in the color Stone. Maxim, which is based on Ruggiero's popular Trax pattern, has a similar construction, using color forms to create the look of subtle stripes.
The Milano group in inspired by the city of Milan, which Ruggiero recalls as often enveloped in misty gray clouds. Milano patterns accent this misty gray effect, including Germaine in the color Silk and Tamaran in the color Stone.
The fourth group is Capri, which reflects the romance of the island with its blue skies and ocean. Tamaran II is the lead pattern in the color Sky, representing a reverse side of the pattern Tamaran, resembling an Italian tapestry.
Complementary fabrics in the Capri group include Trax and Cote in the color Cloud. Numerous other Ruggiero patterns in blue colorways are also available as coordinating offerings.
"Our fall showroom will also feature 12 new introductions of Textillery throws, as well as two large murals printed on Sunbrella canvas," Ruggiero said. "We have featured photos printed on Sunbrella fabrics in previous markets, which we see as catching on with consumers."
About Joe Ruggiero
Joseph Ruggiero & Associates, Inc. is a multi-media home design and television production company based in Los Angeles. In addition to his Miles Talbott upholstery line, Ruggiero also designs a signature Sunbrella® fabrics collection, lighting for Craftmade, wall décor for W. King Ambler, casual furniture for Terra, wood furniture for Gat Creek (American made with wood from sustainable forests), all-weather wicker for Woodard in Viro fiber, decorative trims for Phoenix and bedding and drapery for Casa Fiora. On the web at http://www.joeruggiero.com.
About Miles Talbott
Miles Talbott was founded in 1993 by Michael Thomas Furniture to expand its offering of top quality furniture for the growing market of lifestyle upholstery. On the web at http://www.milestalbottfurniture.com. The Miles Talbott High Point Showroom is located at 1690 English Road in High Point.
About Sunbrella®
Celebrating 50 years of innovation in 2011, the Sunbrella brand revolutionized the way the world thinks of beautiful performance fabrics with its entrance to the marketplace in 1961. Today, durable, easy-care Sunbrella fabrics are available in thousands of sophisticated styles, patterns and colors for wherever people live, work and play. On the Web at http://www.sunbrella.com. Follow Sunbrella on Facebook at http://www.facebook.com/Sunbrella or on Twitter at http://twitter.com/sunbrella.
###