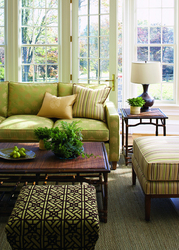 Over the past several years, Sunbrella fabrics have undergone a transformation
(Vocus) June 23, 2008
Don't worry about sticky fingers and dirty hands touching the curtains. If they're made out of the new high performance Sunbrella fabric sheers, they're easy to clean. And also highly fade resistant and durable. "These textured sheers are perfect for outdoor kitchens and entertainment spaces, and can help cut the glare of an afternoon sun," noted Jan Jessup, national spokesperson for Calico Corners.
Grommeted sheer panels can be used to define an outdoor space. They can also soften a porch or a pergola with sculptural lines of cascading fabric. "The textured weave of these sheers was designed for easy cleaning and to allow water to flow through—so they're ideal for outdoor décor," added Jessup.
"These Sunbrella sheers are a natural extension of the indoor-outdoor fabrics available by the hundreds at Calico Corners and Calico Home stores across the country," said Jessup. What exactly are high performance fabrics? They don't receive applause at the end of their run, but indoor-outdoor Sunbrella fabrics are washable with soap and water, they're fade-resistant, mold and mildew-resistant and extremely durable. In case of stubborn stains, you can even use a bleach solution to clean them, as acrylic fabrics are unaffected by bleach.
"Over the past several years, Sunbrella fabrics have undergone a transformation," explained Jessup. "Formerly available in canvas textures that were stiff as a board, they're now woven in elegant damask textures, soft fuzzy chenilles, stunning jacquard designs and silky sheers, solids and stripes." There's even a Sunbrella velvet now, she added.
What makes acrylic fabrics so durable is the nature of the yarn. It's dyed before it's extruded, so that the color goes all the way through, similar to how a carrot looks when you slice it. The fiber is extremely fine and silky soft, so that it can be spun into a wide variety of yarns and then woven as many different types of fabric.
"The dressy textures of Sunbrella are perfect for dining room chairs and kitchen banquettes," suggested Jessup. "It's nice to know that the ground-in chocolate cake will come right out, after the guests have left." The lighter textures of Sunbrella are also good for custom bedding and upholstery where pets have free reign. "It's easier to transform your décor than to remake your dog," she noted. "Life is for living, so surround yourself with easy-care home furnishings that will lower your stress level."
If you like to leave out cushions on an outdoor patio, Jessup also recommends having them made with quick-dry Marine Foam, available through Calico Corners stores. It sheds water easily, plus it has anti-microbial and anti-fungal additives to avoid mold and mildew. Marine Foam does not degrade when exposed to moisture or hot weather. "However, if you can protect your cushions from the elements when not in use, they will last longer," she advised.
One other advantage of having pillow and cushion covers custom made at Calico Corners is the ability to use outdoor acrylic trims—twisted cords, brush fringes, braids and casual beaded trim. "These trims add a special finishing touch and they're quite affordable," said Jessup. "They're equally useful in design projects for interior rooms, because of their care-free attributes."
Celebrating its 60th anniversary in 2008, Calico Corners provides expert advice, decorating solutions and in-home design consultation in more than 100 stores across the country. In addition, consumers will find designer fabrics for the home, trims, custom window treatments , blinds, shades and custom upholstered furniture. Thousands of fabrics are now available online. For more information on Calico Corners or Calico Home products and services, or to find the nearest store location, visit http://www.CalicoCorners.com or call (800) 213-6366.
Contact Information:
Jan Jessup
Calico Corners
610-444-9700 x262
# # #