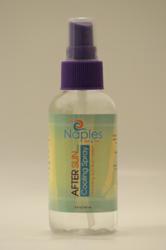 as little as 15 minutes in the sun can cause sunburn
(PRWEB) April 23, 2013
With the warm months ahead, chances are that more and more time will be spent outdoors thus increasing the possibility of sunburn. Naples Sea and Sun's 'Cooling Mist' provides welcomed relief from uncomfortable, sometimes, painful, sunburn. The nearly 100% natural ingredients and essential oils provide cool relief the skin needs. Aloe, the well-known healing plant, also aids in repairing any damage.
"Since no one plans to get sunburnt, and as little as 15 minutes in the sun can cause sunburn, it helps to be prepared. By making sure you have a bottle of Naples Sea & Sun's Cooling Mist in your cabinet, Instant cooling relief for painful sun damage will be right at your fingertips," says Julie Tongue, owner and founder of Naples Sea & Sun. "The essential oils of peppermint, spearmint, rosemary and tea tree work their magic together and give the cooling relief you need."
Naples Sea & Sun, a Florida based natural provider, knows what the skin needs. When outdoor living is a year round event, effective skincare is essential. The Naples Sea & Sun line of lotions and soaps offer a healthy alternative to traditional skincare using natural oils, vitamins, minerals, and plant extracts to maintain young, healthy glowing skin.
More information about the Naples Sea & Sun products can be found at http://www.NaplesSeaAndSun.com. Go a bit further and connect with them socially on Facebook, Twitter, and Pinterest.
About:
Naples Sea and Sun has provided natural and after-sun lotions and sprays as well as hand-crafted soaps for nearly three years. Their products contain nearly 100% natural ingredients and essential oils that leave skin healthy and smooth for a reasonable cost. Lotions and sprays are developed to condition and maintain skin on a day-to-day basis and after prolonged sun exposure. Naturally scented soaps offer tropical scents of the region as well as natural moisturizers that leave skin resilient.