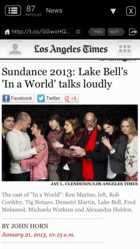 Film Today is a great iPhone app for tracking recent industry news and festival events.
New York, NY (PRWEB) January 21, 2013
Film Today is your mobile lifeline to all the professional entertainment industry news and stories. Film Today puts all the trades, news outlets and opinion leaders at your fingertips.
Find out what's hot at the Sundance Film Festival, what Deadline is raving about, Ted Hope's most recent advise, or the latest news on Variety, Hollywood Reporter, and Indiewire. Film Today brings the hottest and latest news in film and entertainment into the palm of your hand.
The Film Today App brings articles pulled from individualized customized lists of publications, journalists, trades and opinion leaders for each subject channel. Mighty Mack continuously monitor and adjust the source lists to include new sources and publications as well as opinion leaders of note.
"This App is the best way to stay on top of Sundance. It's quick and easy to use and brings me all the news and deals read-time." said Seth E., a long-time Sundance attendee and user.
Film Today covers such sections as:
Film Industry News
Box Office
Studios
Personalities
Festivals
Indie
Gossip
Marketing
Features and requirements
Compatible with iPhone 3G, 3GS, 4, 4S and 5
iPod touch
iPad non-retina and retina
Requires iOS 4.3 or greater
Easily share your favorite news with friends via Email, Facebook and Twitter.
Film Today is published by Mighty Mack and available today at bit.ly/film-news
MightyMack is a leading publisher of distinguished digital products for the consumer and professional markets. The Company leverages newly available digital tools to create, design, and share new ways of consuming information and experiencing the world around us. The company has released a variety of best-of-class Apps, including Advertising Today, Science Today, Where2Boss?, Agora Briefcase, Breaking News, Film Today, among many others.
To learn more about MightyMack please visit their website at http://www.mightymack.com or email them to press(at)mightymack(dot)com.