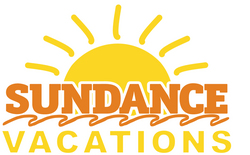 Wilkes Barre, PA (PRWEB) December 16, 2009
Sundance Vacations has provided discount vacations and wholesale travel options since being founded in 1991, and in 2010 Sundance Vacations will be introducing better quality discount vacation options as the company continues building its excellent reputation among travelers, employees and community.
"Increasing quality and customer service levels are major goals for us in the upcoming year. A new customer survey will be completed in the first quarter to establish some baseline levels of customer satisfaction and quality. A newly negotiated service contract with a major inventory provider will positively impact our success on the quality front," says Tina Dowd, Founder of Sundance Vacations.
Sundance Vacations was founded by John and Tina Dowd with the intention of running a small rental agency in the Pocono Mountains, but this humble beginning lead to a more comprehensive approach - to buy vacations in bulk and pass the savings on to the traveler for a fraction of the retail rate. A now proven concept was born when the Dowds began serving the vacation needs of the traveling community by providing quality affordable vacations. Before long, John and Tina Dowd transformed their small rental agency into the national travel conglomerate known today as Sundance Vacations.
Fast forward eighteen years: Sundance Vacations has received numerous accolades for their marketplace and workplace policies, charitable pursuits and business ethics - including the prestigious Torch Award from the Better Business Bureau of Northeast and Central Pennsylvania. With an average annual growth rate exceeding 26% and BBB memberships in every city in which the company operates, Tina Dowd believes Sundance Vacations is showing no signs of slowing down in 2010.
"We don't have the final sales numbers from '09 just yet, but we expect to finish at about $76 million. We believe any travelers who curtailed their travel plans last year will not skip two years in a row, and believe there is an abundance of pent up vacation energy that will be acted upon in 2010 and we're ready for it. We're setting our sales goal at $100 million for 2010, which will represent about a 30% increase from 2009 vacation sales for Sundance Vacations," says Dowd.
According to an October 2009 Real Estate Channel survey, 53% of U.S. Households will be planning a Leisure trip in Q1 of 2010, and Sundance Vacations is poised to provide travelers affordable options for their most popular vacation destinations throughout the coming year.
About Sundance Vacations:
Sundance Vacations is a national travel company that specializes in wholesale vacation accommodations. The company is headquartered in Wilkes-Barre, Pennsylvania and maintains offices in six other locations including; Rockaway, NJ; Princeton, NJ; King of Prussia, PA; Harrisburg, PA; Downers Grove, IL, and Brookfield, WI. Sundance Vacations is a highly rated member of the better business bureau, rated 27th Best Place to Work in Pennsylvania by Best Companies Group, and 17th Best Place to Work out of 30 finalist companies from the Best Place to Work Illinois program. The company was also recently honored as Sales Department of the Year in the 3rd annual Stevie Awards for Sales & Customer Service.
# # #