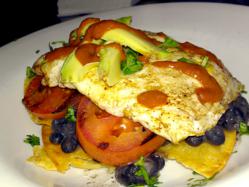 I love food, no matter where it originates, it is a universal language...
Milwaukee, Wi (PRWEB) August 24, 2012
Feker's unique brunch experience begins with a trip to IL MITO's build-your-own Bloody Mary Bar. From grilled asparagus, fresh bacon, cocktail shrimp to the classic pickle, guest start their indulgence with a meal in a glass. Then Feker takes his guests around the globe with his new, meticulously created brunch menu (a full Gluten-Free brunch menu is also available). Upon the initial presentation, the colors and typography of the dish, Feker's goal is to have guests addicted before they even take a bite. A new, gorgeous creation, from Mexico Huevos motuleños — fried corn tortillas topped with beans, over-easy eggs, grilled tomatoes, chopped cilantro, avocado and cotija cheese. From Mexico to Madrid Feker's Torrijas is a Spanish-style "French toast" topped with fresh fruit, honey and homemade whipped cream.
"I love food, no matter where it originates, it is a universal language. I am very blessed to be able to speak to my guests through these various dialects and bring them back to the basics of pure, unprocessed ingredients that promote health and well-being," Feker shares.
From the United States Feker's innovative brunch menu highlights the traditional "steak and eggs" with a Fekerized grilled New York strip; as well as the classic shrimp and grits served atop creamy yellow corn polenta. Inspired in Wisconsin, Feker serves a locally raised black angus beef burger topped with cheddar cheese, crispy bacon, lettuce, tomato, onion and a fried egg, served with roasted potatoes. From California a veggie lover's grilled portabella mushroom cap filled with roasted roma tomatoes, sautéed spinach and poached egg to an imaginative California Wrap of a flour tortilla filled with scrambled eggs, bacon, beans, cilantro, roasted chili sauce and fresh avocado. Hop a flight to Venice for a seafood linguine cooked in a foil purse to create an infusion of Fekerized flavors; an Italian frittata of organic eggs, asparagus, sun-dried tomatoes and goat cheese; tour France with a crustless roasted duck and goat cheese quiche with petite green salad; a Greek-inspired spinach, egg and feta cheese wrap or Asian influences of sticky rice topped with grilled fish of the day, spinach, Thai basil, a poached egg, Kim Chi and Vietnamese-style chili sauce.
"As a father I feel it is important for our children to have healthy options when they go out to eat. I created my Kids' brunch menu, as I do with all of my menus, using pure ingredients that do not contain additives, growth hormones or contaminates that negatively impact my guest's health." From the childhood favorite Toad in a Hole to the classic green eggs and ham, parents can rest assured that, at IL MITO, their children will receive nourishment through inviting flavors and presentation.
about il mito
IL MITO Trattoria e Enoteca is an award-winning Italian/Mediterranean restaurant and wine bar located in the heart of Milwaukee in the village of Wauwatosa. The restaurant opened in 2006 and has become one of the region's most popular Italian eateries. The restaurant's executive chef and culinary creator, Michael Feker, established IL MITO as a destination for simple yet robust Italian that's affordable. The menu features everything from homemade pastas and salads to signature soups, breads, cheeses and pizza, including homemade, gluten-free options. Lunch is served Tues-Sat from 11am-2pm; Brunch served Sun from 10am-2pm; dinner servies begins at 5 pm Tues-Sun, closed Mondays. IL MITO also offers full-service catering, private events, cooking demonstrations, wine tastings and more.
about chef feker
Michael Feker is an accomplished chef with over 20 years of culinary experience, having studied abroad in Switzerland. He learned under the tutelage of renowned chef Roberto Gerometta and has owned restaurants in Los Angeles, Milwaukee and currently in Wauwatosa. He specializes in traditional Italian/Mediterranean cuisine and is also a culinary instructor, owning and operating CMFs Culinary School of Magic. With his vast culinary knowledge of the chemistry of foods of all cuisines, classical French training, along with world travels and experience, chef Feker is a culinary innovator who creates dining experiences through unique food and superior service. Feker can be seen weekly on Milwaukee's FOX6 on Real Milwaukee, WakeUp, Weekend WakeUp, as well as his own local cooking show, Feker's Kitchen, which airs Fridays at 11:30 on local channel 6.