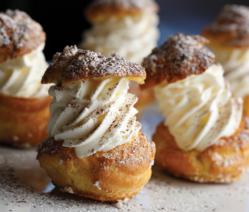 Guests of FARINA really enjoy the Chef's Counter, where they can watch our chefs make pasta by hand.
San Francisco, CA (PRWEB) September 20, 2011
FARINA Focaccia & Cucina Italiana in San Francisco serves an exquisite and uniquely Ligurian Sunday brunch. From 11 am to 3 pm each Sunday, guests of the San Francisco Italian restaurant can enjoy unique egg plates and traditional Ligurian-style dishes prepared by Chef Laboa and his team. Guests who sit at the Chef's Counter can watch the chefs craft traditional Italian pastries, pizza and pastas.
"Guests of FARINA really enjoy the Chef's Counter, where they can watch our chefs make pasta by hand," said Jessica Anaya, Guest Relations Manager at FARINA. "The quality of our hand-made pasta and pesto is unrivaled in the Bay Area."
Inside the restaurant, guests of FARINA's Sunday brunch can take pleasure in the lively jazz music selected from musicians all over the world. Or they may enjoy the hustle and bustle of the street and spectacular views of the murals that blanket the nearby Women's Building in FARINA's outdoor dining area.
According to Anaya, FARINA draws a different crowd each week. The Mission district location is blessed with sunlight and a slightly warmer temperature the many other areas in the city, this unique micro-climate draws sun-seekers to enjoy brunch street-side. Many of FARINA's guests are neighbors, and so they often stop to have brunch on the way to Dolores Park. The San Francisco fine dining restaurant also hosts plenty of couples, groups of friends, and has a kid-friendly menu for children.
FARINA's special Sunday brunch gourmet Italian menu includes:
UOVA (eggs) $12 - $14
Frittatina di finferli e fiori di zucchine
Chanterelle mushrooms and zucchini blossom frittata served with roasted potatoes and fresh brioches
Uova strapazzate con pomodorini e broccolini
Egg white scramble with broccoli di Cicco and cherry tomato
Uova con pomodoro e salsiccia
Two eggs cooked in tomato sauce served with fresh brioches and roasted potato
ANTIPASTI (hors d'oeuvres) $10 - $16
Misticanza di campo con scaglie di parmigiano
Sweet and bitter green salad with taggiasche olives, shaved parmesan cheese and balsamic vinaigrette
Tagliere di salumi e formaggi misti
Selection of Italian cured meat and cheese
PIATTI CALDI (hot plates) $16 - $18
Melanzane alla parmigiana
Traditional eggplant parmigiana layered with tomato sauce, basil and Buffalo mozzarella
Zuppetta di mais, peperoni e gamberoni
White corn and red bell pepper soup with pan seared wild Santa Barbara spot prawns
Piatto freddo con insalatina estiva
Roasted veal, cooked pink and served cold with a salad of cherry tomatoes, basil and watercress
Mandilli di seta al pesto
Handmade handkerchief pasta with Genovese basil pesto (Paolo's pesto won the gold medal during the Pesto World Championship)
Panino della Domenica con patate arrosto
Skirt steak warm panino with arugula, Blu del Moncenisio and balsamic vinaigrette with roasted potatoes
PIZZE (pizza) $14 - $16
Pizza margherita
Pizza with fresh tomato, buffalo mozzarella, Parmesan cheese, olive oil and basil
Pizza Buon giorno
Pizza with tomato sauce, mozzarella Fior di latte, house cured pancetta, egg, Parmesan cheese and olive oil
Pizza diavola
Pizza with tomato sauce, mozzarella fior di latte, spicy Calabria salami and reggiano cheese
GELATI E PASTICCERIA (frozen desserts and pastries) $4 - $6
Affogato al caffe con crema
Vanilla ice cream with espresso
Fagottino al cioccolato e alla crema
Handmade chocolate and pastry cream croissant
Cornetti
Handmade cornetto filled with apricot jam
Gelati della casa
House made ice creams
Biscotti della casa
Hand crusted dry biscotti
SPECIALTY COCKTAILS
Bellini Estivo
Prosecco and white peach puree
Farina's Mary
Tito's vodka, cherry tomato, chili, basil and balsamic vinegar garnished with carrots and celery
For those who miss or want to forgo brunch, FARINA offers pizza all day on Sundays.
For reservations or more information about Sunday brunch, please call (415) 240-4824 or visit FARINA online at http://www.farina-foods.com or in person at 3560 18th Street at Valencia in San Francisco.
About FARINA
FARINA is a San Francisco Italian restaurant that specializes in traditional Northern Italian, Ligurian cuisine. Grounded in tradition, FARINA is the antithesis of faddish here-today-gone-tomorrow hip food. From the chic, yet functional design of the San Francisco Mission District restaurant to the homegrown recipes Chef Laboa learned at his grandmother's side to the infinite well of ideas that spring from its founders—FARINA is redefining Italian dining in San Francisco.
# # #