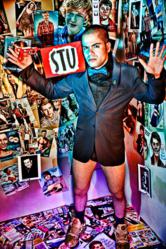 As Stickam has evolved, I've evolved. I always try new, innovative ways to use live streaming, and the pool party will be the perfect backdrop for my new album release. ~Stu Stone
Los Angeles, CA (PRWEB) July 27, 2011
Today from noon until midnight PDT long-time Stickam celebrity Stu Stone is hosting the first-ever LIVE interactive summer pool party in celebration of his highly-anticipated solo album, "Return of the Stone Movement." To tune in, visit http://www.stickam.com/sundaynitestu
Viewers who start parties of their own can call in for a chance to have their pool featured on the show. Fans can expect the zany antics Stu has become known for, including random drop-ins from special guests, bizarre viewer prizes and of course a LIVE stream of the entire new album featuring the single "Super Bird" produced by DJ Lethal, available on iTunes NOW.
Stone shifted to digital media five years ago to begin his web series "The Sunday Nite Stu" airing LIVE every Sunday night on Stickam. One of the longest running Internet shows, it just passed 7 million viewers and features interviews, music videos, comedy and live call-ins.
Stone previously teamed with comedian Jamie Kennedy on the MTV series, "Blowin Up," and together released an album through WB Records that reached cult classic status with songs like "Circle Circle Dot Dot" and "Rollin with Saget" and collaborations with PAUL WALL, E40, ICE T and even BOB SAGET.
###