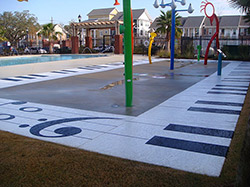 Arlington, Texas (PRWEB) September 30, 2012
Sundek, an industry leader in decorative concrete products, designs and installations, will have their work showcased in this year's Decorative Concrete Council awards. Participants from Sundek's nationwide dealer network will compete in a range of decorative concrete applications, including overlays, countertops, stained concrete, vertical applications, polished concrete and epoxy/polyaspartic flooring.
Last year's winners included several Sundek contractors, including a first place win in the overlays and spray textures category by Sundek by Concrete Coatings, Inc for their work in Columbia Parc in Louisiana. Sundek of Illinois also placed in the overlays and spray textures category, placing second for their decorative concrete work at Lincoln Park Towers in Rolling Meadows, Illinois.
Since 1970, Sundek has been leading the industry in concrete resurfacing and decorative concrete solutions, becoming the preferred concrete resurfacing company of home owners and commercial businesses nationwide.
Specializing in concrete revitalization, Sundek products allow you to turn your concrete patio, pool deck, courtyard, driveway, garage flooring, hotel lobby, restaurant floor, walkway or other surface into a functional work of art.
Sundek products adhere to the strictest industry safety standards and are also environmentally friendly– Sundek is a proud member of the U.S. Green Building Council. Their innovative products and their dedication to client satisfaction have made Sundek's success story possible, and they look forward to another outstanding awards season.