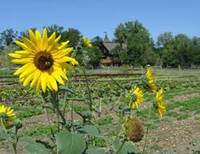 Farm fresh from the grocer's backyard
Boulder, CO (Vocus) October 17, 2009
"Farm fresh from the grocer's backyard" sounds like a pretty good ad for a supermarket chain, but in Mike Gilliland's case, it happens to be the literal truth. Gilliland, CEO and founder of Sunflower Farmers Market is the only supermarket mogul to start a backyard farm to augment the produce stock in their 27 stores across the West and Southwest. Welcome to Sunflower Farm.It fits in with the idea that proved to be Sunflower's genesis in 2002: why shouldn't regular people be able to afford healthy food, too? The farm is small right now but the idea is not. Growing his own food helps Gilliland do the two vital things to Sunflower's business model: control quality and lower costs to keep prices down and customers happy.
This idea is catching on, as Sunflower has grown 270 percent at the same time other supermarkets are failing. All this helps Gilliland to achieve his own vision of success, as Sunflower celebrates its "Lucky Seven" seventh anniversary. It's more than luck and it's more than a platform for profits. Gilliland has launched a campaign to fight childhood obesity, created a "Smallest Winner" weight-loss competition among his customers and employees and is selling 130,000 reusable fabric grocery bags with proceeds going to the Susan G. Komen Foundation to find a cure for breast cancer.
Gilliland started the farm last year in back in Longmont, Colo. He remodeled the home on property and is now living there, watching his first set of crops begin to come to fruition! The whole family is part of the farm fresh philosophy. Most recently his kids bought him a pair of baby goats for his birthday.
The farm will triple in size next year and already grows arugula, bok choy, cabbage, collard greens, peppers, radishes, squash, turnips and various lettuces. The expansion will include a wind- and solar-powered greenhouse.
Gilliland started Sunflower Farmers Market in 2002 after building Wild Oats Market into a success story and selling it to Whole Foods.
About Sunflower Farmers Markets
Sunflower Farmers Markets (http://www.sfmarkets.com) is a rapidly growing chain of full-service grocery stores offering consumers the highest quality natural and organic products at the lowest possible price. The company, founded in 2002, is a pioneer in developing the emerging value segment of the natural and organic foods retailing industry. They have remained true to their motto "Serious Food…Silly Prices" since the market's inception. The company has 27 retail stores located throughout Colorado, Arizona, New Mexico, Nevada, Utah, and Texas (operated as Newflower Farmers Markets).
###