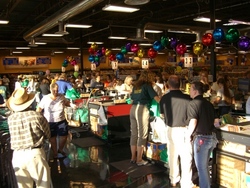 Albuquerque, NM (Vocus) July 14, 2009
Sunflower Farmers Markets , a rapidly growing organic and natural foods supermarket chain, is set to open its third store in Albuquerque, N.M., and bring 100 new jobs to the local economy.
The Wednesday, July 29, 2009 grand opening will kick off at 6:30 a.m. in front of the new store, at 6300-A San Mateo Blvd. NE, at Academy. The grand opening celebration will feature complimentary breakfast items and a special Sunflower garland-cutting ceremony with Mike Gilliland, Sunflower's founder and CEO.
Doors will open immediately after the garland cutting at 7:00 a.m. The first 200 customers on opening day will receive a free reusable shopping bag filled with Sunflower's healthy groceries, valued at over $50.00, with any in-store purchase. Customers are encouraged to arrive early, as the line typically forms hours before the store opens.
Free samples from virtually every Sunflower department will be given away all day, and guests can enjoy complimentary chair massages to relieve their tired muscles. From 11:00 a.m. to 6:00 p.m., the grill will sizzle for an on-site barbeque, featuring free samples of all-natural Harris Ranch beef. A kids' activities tent will feature cooking classes, crafts and games for kids.
The market will also feature special grand opening in-store deals and savings throughout the day.
"We are eager to expand our 'Serious Food at Silly Prices' grocery store concept in Albuquerque, as this is where our success first started. New Mexico residents are aware of the benefits of eating quality food, yet are savvy enough to look for good values, especially during these challenging economic times," Gilliland said.
Albuquerque was home to the very first store in the Sunflower chain, and is presently home to two locations: 10701 Corrales Rd. and 5112 Lomas Blvd. Two new markets are planned for Santa Fe, N.M., as well as a fourth market for Albuquerque in 2010.
Please visit http://www.sfmarkets.com for information regarding the markets, current locations, anticipated store openings and much more.
About Sunflower Farmers Markets
Sunflower Farmers Markets (http://www.sfmarkets.com) is a rapidly growing chain of full-service grocery stores offering consumers the highest-quality natural and organic products at the lowest possible price. The company, founded in 2002, is a pioneer in developing the emerging value segment of the natural and organic foods retailing industry. They have remained true to their motto "Serious Food…Silly Prices" since the market's inception. The company has 25 retail stores located throughout Colorado, Arizona, New Mexico, Nevada, Utah, and Texas.
CONTACT:
Susanna Minegishi
McFadden/Gavender
O: (520) 882-6262
M: (520) 444-9223
Karen Gavender
McFadden/Gavender
O: (520) 882-6262
M: (520) 603-4200
# # #