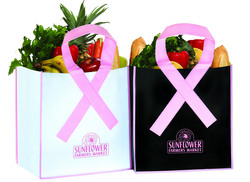 Boulder, Colo. (Vocus) September 24, 2009
When you enter any of the 27 Sunflower Farmers Markets this October you will see that they are pink and proud. The stores will be filled with limited-edition 2009 reusable pink grocery bags that were created for a cause - more then 100,000 bags will be available! A portion of the proceeds from each bag sold this year will be donated to the Susan G. Komen for the Cure in support of National Breast Cancer Awareness Month in October.
The specially designed limited-edition bags will be sold for $.99 starting October 1, while supplies last. This is the second annual effort by the natural foods grocery chain to partner with the community to make a difference. A total of 130,000 bags will be available at Sunflower and Newflower Farmers Markets locations across Arizona, Colorado, Nevada, New Mexico, Utah and Texas. Last year, Sunflower raised thousands of dollars for breast cancer care and research. This year they look forward to increasing their efforts and impact.
In addition to the bag sales, Sunflower and Newflower Farmers Markets will feature specials on dozens of products with a purpose, including special "pink" products all October long! Also, every store will be educating customers on preventative care, good nutrition and the mind, body and soul connection. Each store will also hold fundraising barbeques and other events to help raise even more for breast cancer care. Check your local store for events coming up in your area.
To continue their support in the fight against breast cancer, each Sunflower and Newflower location will have a team lacing up their tennies for the Susan G. Komen Race for the Cure to raise additional awareness and funds.
If detected early, the five-year survival rate for breast cancer exceeds 96%. Proceeds from Sunflower's pink bags will help the fight to make breast cancer a thing of the past!
You can do your part by buying a pink Sunflower Farmers Market grocery bag. With 27 locations across the country, Sunflower knows that each individual area can truly make an impact on cancer care in their community and help to raise breast cancer awareness.
For more information on Sunflower Farmers Markets, please visit http://www.sfmarkets.com
About Sunflower Farmers Markets
Sunflower Farmers Markets (http://www.sfmarkets.com) is a rapidly growing chain of full-service grocery stores offering consumers the highest quality natural and organic products at the lowest possible price. The company, founded in 2002, is a pioneer in developing the emerging value segment of the natural and organic foods retailing industry. They have remained true to their motto "Serious Food…Silly Prices" since the market's inception. The company has 27 retail stores located throughout Colorado, Arizona, New Mexico, Nevada, Utah, and Texas (operated as Newflower Farmers Markets).
CONTACT:
Susanna Minegishi
McFadden/Gavender
O: (520) 882-6262 • M: (520) 444-9223
Karen Gavender
McFadden/Gavender
O: (520) 882-6262 • M: (520) 603-4200
###