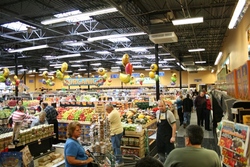 Tucson, AZ (Vocus) September 17, 2009
Sunflower's growth and popularity continues to flourish in the Arizona! With this month's grand opening, Sunflower Farmers Markets will have four markets in operation in the metropolitan Tucson area. Join in the grand opening celebration on Wednesday, September 30! The day will be officially proclaimed Sunflower Farmers Market Day by the Mayor of Marana, Ed Honea. The Mayor urges all citizens to celebrate this day by encouraging families to adopt healthy and nutritious eating habits for life! The best way to start that is shopping at Sunflower!
The new store will also have an incredible impact on the economy. Sunflower will bring over 100 new jobs to the new location at Orange Grove Road and Thornydale Road in Marana. In addition to a crop of new jobs, Sunflower brings a new style of grocery shopping to Marana by offering all-natural and organic products at affordable prices. This includes local produce, all-natural meats and seafood and a huge bulk selection.
Grand Opening festivities will kick off at 6:30 a.m. in front of the new store at 3860 W. River Road in Marana Marketplace. The grand opening celebration will feature complimentary breakfast items and a special Sunflower garland-cutting ceremony with Mike Gilliland, Sunflower's founder and CEO.
Doors will open immediately after the garland cutting at 7:00 a.m. The first 200 customers on opening day will receive a FREE reusable shopping bag filled with Sunflower's healthy groceries, valued at over $50.00, with any in-store purchase. Customers are encouraged to arrive early, as the line typically forms hours before the store opens.
Free samples from virtually every Sunflower department will be given away all day, and guests can enjoy complimentary chair massages to relieve their tired muscles. From 11:00 a.m. to 6:00 p.m., the grill will sizzle for an on-site barbeque, featuring free samples of all-natural Harris Ranch beef. A kids' activities tent will feature cooking classes, crafts and games for kids.
"We are eager to expand our 'Serious Food at Silly Prices' grocery store concept into the growing town of Marana. We bring a quality, affordable grocery option to residents. Our produce, meats and seafood are delivered fresh daily, offering a superior way to grocery shop, especially during tough economic times," Gilliland said.
Sunflower Farmers Markets currently operates three markets in the Tucson area, located at First & Wetmore, 4282 N. First Avenue; Speedway & Swan, 4645 E. Speedway Blvd. and Broadway & Pantano, 7877 E. Broadway Blvd.
Sunflower, founded in 2002, now operates 27 stores in Colorado, Arizona, New Mexico, Nevada, Utah and Texas. The company's increasingly popular format offers consumers a full-service farmers' market-style grocery store featuring the highest quality natural and organic products at the lowest possible price. As Sunflower continues to grow, executives continue to scout out additional locations for openings in 2010 and beyond.
Please visit the all-new http://www.sfmarkets.com for information regarding the markets, current locations, anticipated store openings and much more.
About Sunflower Farmers Markets
Sunflower Farmers Markets (http://www.sfmarkets.com) is a rapidly growing chain of full-service grocery stores offering consumers the highest-quality natural and organic products at the lowest possible price. The company, founded in 2002, is a pioneer in developing the emerging value segment of the natural and organic foods retailing industry. They have remained true to their motto "Serious Food…Silly Prices" since the market's inception. The company has 27 retail stores located throughout Colorado, Arizona, New Mexico, Nevada, Utah, and Texas.
Contact:
Susanna Minegishi
McFadden/Gavender
O: (520) 882-6262
M: (520) 444-9223
Karen Gavender
McFadden/Gavender
O: (520) 882-6262
M: (520) 603-4200
###