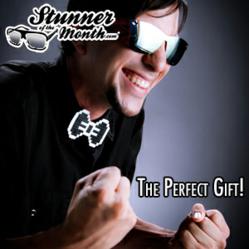 "Gifting Stunners is the best way to show your love year round. Gift a friend, family members even a co-worker,"
San Francisco, California (PRWEB) November 21, 2011
The countdown to Cyber Monday has begun, and online retailer, Stunner of the Month, is inviting shoppers to log-on and give the gift of style this holiday season. Today, the monthly sunglasses subscription service unveiled the Holiday Button, offering consumers an all-access pass to their exclusive holiday shipment.
Sign-up for the special holiday delivery guarantees a hand-wrapped box of hand-picked sunnies will arrive to mailboxes nationwide in time for the holidays. To brighten the deal, each order includes a customizable e-card for gifters, outlining the side effects of dawning StunMo shades. Giftees are never notified of the subscription, ensuring a stunned response when the first shipment arrives.
"Gifting Stunners is the best way to show your love year round. Gift a friend, family members even a co-worker," says Co-Founder Todd Smith. Best of all, giving the gift of stun is easy:
1. Customize Your e-Card With A Special Message. Let that special someone know that they've been stunned. Remember, you send the e-card when you're ready to reveal the surprise.
2. Surprise! Wait for the hand-wrapped bundle to arrive and see the look of pure joy on the face the giftee as they lay eyes on their first pair of Stunners.
Following the holiday shipment, the giftee will receive their next pair of Stunners on the 15th of every month. Gifting options are available in 3, 6 and 12 month terms, priced at $27, $45 and $90 respectively. All subscriptions are paid in full at the point of purchase.
To learn more about Stunner of the Month or to place an order visit StunnerOftheMonth.com/gift. Stay up-to-date on holiday deals by following on Facebook , Twitter , Soundcloud and Instagram.
Launched in 2009, Stunner of the Month isn't just a club, it's a lifestyle. The monthly sunglasses subscription service encourages subscribers to make each pair of unbranded shades their own. Wear January's Stunners in September. Share a pair with a friend. Give a pair to get a number. Wear two at the same time. It doesn't matter. With this mentality in mind, the San Francisco based startup supplies rare, fashion eyewear to thousands of "stunsetters" in all 50 states, and the District of Columbia and internationally to over 15 countries.
Media Contact:
Todd Smith
Telephone
Todd(at)StunnerOfTheMonth(dot)com
###