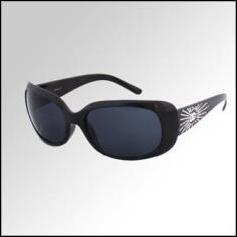 City of Industry, California (PRWEB) July 6, 2007
In today's competitive business environment, sunglasses retailers are facing with the challenge of selecting the right sunglasses wholesale distributor to partner with. More and more sunglasses wholesale suppliers are appearing on the market, however, only a few sunglasses wholesale distributors can truly carry good volume of high quality trendy products at competitive prices. Ceriwholesale.com is one of the few reliable sunglasses wholesale companies that carries a large selection of the trendy sunglasses at strongly competitive prices.
In preparation for the current season, CERIWholesale has launched over 350+ new styles of woman's fashion sunglasses and man's sport sunglasses onto CERIWholesale.com. These trendy sunglasses reflect the latest fashion design that are suitable for the US and European markets.
What exactly are in style now? The most sought after items include wraparounds, "Jackie Os", sleek futuristic and jeweled bands. Although these styles had been popular recently, the latest trend is to add jeweled details such as rhinestones and tinted shades for a more refreshing look. In addition rimless sunglasses are showcasing some very unique lens shapes this summer to create a "wow" effect.
CERIWholesale.com current carries over 700+ styles of both man's and woman's sun glasses products on its web site for wholesale. With the large selection of stocks to choose from, retailers can save time, shipping cost, and eliminates the need to purchase from multiple sunglass wholesalers or distributors by going to CERIWholesale.com.
In addition, Ceriwholesale adds over 100+ new styles of sunglasses onto its web site on monthly basis to keep up with the latest trend in the sunglasses wholesale business. Retailers can often find newest styles of sunglasses for wholesale that are not even available at major fashion accessories tradeshows. CERI understand that today's consumers are fickle and fashion trends are changing faster than ever, it is essential that retailers have a dependable sunglasses wholesale supplier that can updates its stocks on a regular basis and focuses on staying at the fore front of the fashion trends.
Moreover, to truly offer one stop convenience service to our retailer customers, CeriWholesale also carries over 5000 trendy fashion products such as shoes, handbags, clothing, and jewelries to go along with the sunglasses products we wholesale on the site. Hundreds of new fashion items are added to the web site on a weekly basis to help our customers stay up to date with the latest fashion trend.
To see the latest 350+ sunglasses products for wholesale and to get an idea for the latest fashion trend in the current season, just simply take a quick peek at the new arrival section for sunglasses on CERIWholesale.com. The web site features separate sections for woman's sunglasses and man's sunglasses products, make sure to check out the new arrival area in each of the corresponding section.
About CERIWholesale.com Sun glasses Wholesale Distributor. CERI is a well established wholesale distributor of fashion products such as sunglasses, handbags, sunglasses, fashion apparels, shoes, jewelry, laundries and more. Head-quartered in California, CERI's mission is to provide value-added services to fashion retailers with the best wholesale prices.
###