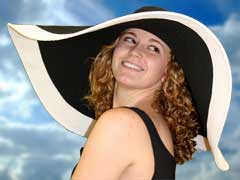 San Diego, CA (PRWEB) December 29, 2011
The aging process is accelerated by UV rays. In fact, ninety percent of all skin aging is due to cumulative sun damage. And, unsightly age spots can suddenly darken with just a few minutes of sun exposure. Unfortunately, the majority of skin damage is not immediately noticeable because sun damage can take up to thirty years to show up. It is never too late to start and that is why pledging this year to begin a regime of sun protection makes sense.
The number one cause of crow's feet, saggy skin, wrinkles and age spots is excessive sun exposure and the most cost effective way to maintain a youthful appearance is to make sun protection a part of daily life.
Here are five helpful tips to get started:

Apply and reapply a broad-spectrum sun screen even on cloudy days. Eighty percent of UV rays pass right through clouds. And, don't forget your hands.
Use unique products like Face Shields that will offer full face protection and will block up to ninety-nine percent of UV rays.
Wear sun protective clothing (UPF) that protects arms, legs and hands. Sun protective clothing is lightweight and fashionable and comes in a variety of styles and colors. Compliment the clothes with Sun Sleeves and Sun Gloves that will protect the most exposed areas of the body
Wear a hat with a brim of at least three inches to shield the face and neck. The bigger the brim, the greater the protection. And, keep hats handy, such as in each car and near the door when you leave the house.
Create instant shade by using a Sun Umbrella that will block UV rays. Sun Umbrellas are fashionable accessories that will protect against sun and rain as well as keep you cooler on a hot day.
Make beauty your New Year's resolution. Keeping yourself looking youthful by daily sun protection is a great way to start the New Year.
The goal of SunGrubbies.com is to help people enjoy a lifetime of good health by offering attractive and comfortable sun protective clothing and accessories of the highest quality and reliability at affordable prices. SunGrubbies.com has products that have been approved and recommended by the Skin Cancer Foundation, the Melanoma International Foundation and the Skin and Cancer Federation of Australia. Every product has been laboratory tested for their sun protective ability and every purchase is 100% guaranteed for satisfaction.
For more information about SunGrubbies.com and their sun protective products, check out their website at http://www.sungrubbies.com and on Facebook. They can also be reached at their toll free phone number (888) 970-1600. To join the SunGrubbies.com affiliate program, go to http://bit.ly/ifRdrH. Be sure and visit their boutique showroom and hat shop if you live in the San Diego area or are planning a visit.
###